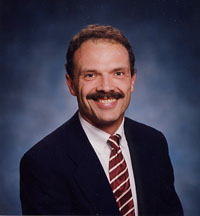 Politics Goes to the Movies
JOHN J. PITNEY, JR.
TUESDAY, JANUARY 31, 2006
Why should students of politics go to the movies? Using clips from classic and contemporary films, Professor Pitney will argue that movies matter in several ways. First, they give us insight into the attitudes and assumptions of other times. Second, they sometimes affect the political agenda by dramatizing social issues. Third, they shape popular understanding of politics — and not always for the better. The movie screen is often full of myths and misinformation.

John J. Pitney, Jr. is the Roy P. Crocker Professor of American Politics at Claremont McKenna College. He is a graduate of Union College and holds Ph.D. in political science from Yale. He has served as a New York State Senate Legislative Fellow, and a Congressional Fellow of the American Political Science Association. He has also held several other positions in government and politics. He has taught at CMC since 1986, and has three times won the Glenn R. Huntoon Award for Superior Teaching. He has written for a variety of publications, and serves as a contributing editor for Reason magazine. He is the author of a book titled The Art of Political Warfare (2001) and is completing an introductory American government textbook with Professor Bessette. He is a coauthor of Reelpolitik: Political Ideologies in '30s and '40s Films (1998), and his work in this field provides a starting point for this presentation.