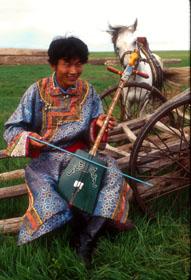 Music from the Grasslands of Inner Mongolia
SU LI, cello
DU ZHAOZHI, composer and piano
SU JIE, piano
ZHENG SHAOFANG, soprano
SUOYILA, soprano
MONDAY, FEBRUARY 6, 2006
LUNCH 11:45 a.m., PROGRAM 12:15 p.m.
A delegation of musicians from Xiamen University and Sujian, led by nationally renowned Professors Du Zhaozhi and Su Li, will present a concert of traditional and modern songs and music from Inner Mongolia. This concert includes Mountain Songs that have recently been recognized as a National Treasure by the United Nations.

Professors Du and Su will talk about the music—the origins and significance of each piece—prior to the performance.

This is a rare opportunity to hear distinctive ethnic music from China performed by professional artists inspired by the particular styles of Inner Mongolia.