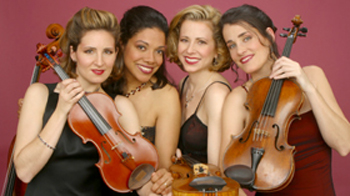 The Lark Quartet Plays Bolcom, Gershwin, and Debussy
DEBORAH BUCK, violin
MARIA BACHMANN, violin
KATHRYN LOCKWOOD, viola
ASTRID SCHWEEN, cello
Monday, February 20, 2006
Nearing the end of its second decade as an internationally celebrated string quartet, the Lark Quartet has evolved into a virtuosic tour-de-force. "Simply one of the finest ensembles in the world!" declared one German newspaper. From Mozart Festivals in Europe to American Music retrospectives at the Library of Congress, providing the soundtrack for choreographer Bill T. Jones' award-winning "Still/Here," and recording the complete Beethoven Quartet Cycle, the Lark Quartet's extraordinary versatility continues to dazzle.

Masters of both the traditional string quartet repertoire and the works of recent artists who delight in bending the "Classical" mode, the artistic energies of this unusual foursome are fueled by this contrast of stylistic extremes.

The quartet discography comprises nearly one dozen CD recordings and a 1998 video documentary of the ensemble which recently appeared on Public Television stations nationwide.

In addition to their contributions to the Lark Quartet, each member of the ensemble is professionally distinguished in her own right. Graduates of esteemed institutions such as Julliard and The Curtis Institute, these musicians are prize-winning soloists, recording artists, and university faculty whose talents mingle and multiply in the classic quartet.

Back by popular demand, this fine ensemble will once again provide a splendid evening of music for those fortunate enough to find themselves at the Athenaeum.