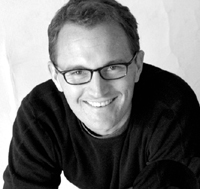 Social Entrepreneurship: Ethos Water and the World Water Crisis
PETER THUM '90
MONDAY, FEBRUARY 6, 2006
For Peter Thum '90, a business trip made all the difference. While working for the management consulting firm McKinsey & Company, Thum was assigned to South Africa for six months in the winter of 2000-2001. The widespread poverty he witnessed was disturbing. Yet one aspect of it in particular sparked Thum's imagination and inexorably changed his path in life: the water crisis. His first-hand experience with the pervasive lack of fresh, clean drinking water among many citizens of South Africa, as well as his view of the resulting dangers and deprivations, inspired him to leave McKinsey & Company and develop a new company in the hopes of making a difference.
Thus in 2002, a water company devoted to using a portion of its profits to help the development of safe water resources in poverty-stricken nations, was born. Thum, along with Jonathan Greenblatt, founded Ethos Water. The company steadily prospered, and in April 2005 the Starbucks Coffee Company acquired Ethos Water, thus providing Thum a further platform from which to launch his humanitarian efforts. The Ethos Water Fund is currently directing funds to support water projects in Bangladesh, the Democratic Republic of Congo, Ethiopia, Honduras, India and Kenya.

Peter Thum is currently a Vice-President at Starbucks Coffee. Before joining McKinsey & Company, he worked for six years in marketing and sales management at the Gallo Winery and as an English teacher at a language training center in Munich, Germany. He holds a Master of Business Administration from the Kellogg School of Management at Northwestern University, and a Bachelor's Degree in Government from Claremont McKenna College.

Peter Thum's lecture is part of the series Life after CMC: Alumni on the Move and is jointly sponsored by the Athenaeum and the Center for the Study of the Holocaust, Genocide, and Human Rights.