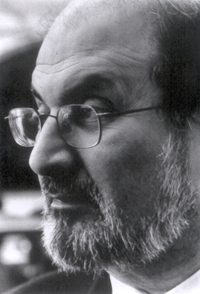 Step Across This Line: An Evening with Salman Rushdie
SALMAN RUSHDIE
THURSDAY, MARCH 2, 2006
Salman Rushdie is one of the most controversial and celebrated novelists of our time. His fourth book, The Satanic Verses (1988), caused an international storm when Iran's Ayatollah Khomeni proclaimed it sacrilegious and issued a fatwa on Rushdie's head. While under this death sentence, Rushdie went on to produce some of his most compelling work, including The Moor's Last Sigh (1996) and The Ground Beneath Her Feet (1999). Rushdie's new novel, Shalimar the Clown (2005), has been called a "magical-realist masterpiece." In most of his writings, Rushdie draws on his unique personal history and upbringing on the Indian subcontinent to make bold statements about modern life.

In 2004, Rushdie was named the president of The PEN American Centre, the largest branch of the world's oldest human rights organization. As president, he has worked to dispel national and ethnic hatreds, defend free expression, and foster international literary fellowship.

He has won numerous international literary prizes and awards, including the Booker Prize and the "Booker of Bookers" award for Midnight's Children (1981). His other honors include the Whitbread Novel Award, the French Prix du Meilleur Livre Étranger, the Budapest Grand Prize for Literature, and the Austrian State Prize for European Literature.

Salman Rushdie's visit to CMC is made possible through the generosity of CMC alumnus L. J. Kutten '74, the Gould Center for Humanistic Studies, the CMC department of literature, and the Athenaeum.

The dinner and lecture at the Athenaeum are for CMC persons only, with overflow seating in McKenna Auditorium on a first-come basis.