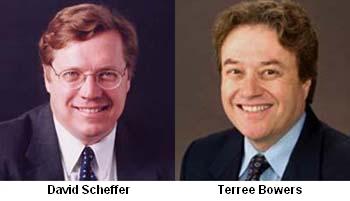 Realizing a Legacy: The International Criminal Court, War Crimes and International Law 60 Years after Nuremberg
DAVID SCHEFFER
TERREE BOWERS
MONDAY, MARCH 6, 2006
The Athenaeum continues its tradition of bringing highly influential speakers to Claremont McKenna by presenting Ambassador David Scheffer and Terree Bowers. These distinguished individuals have played integral roles in orchestrating multilateral, judicial bodies. Scheffer served during the Clinton Administration as the U.S. Ambassador at Large for War Crimes Issues and headed the U.S. negotiating group within the U.N. Preparatory Commission for the ICC. After being on this delegation, Scheffer advocated before Congress that the United States should join the ICC, urging that the nation's absence from the Court greatly weakened this new, promising institution. Mr. Scheffer now is the Senior Vice President of the United Nations Association for the United States, teaches at several premier American law schools, and publishes extensively on issues of international law and politics.
Former Justice Department attorney Terree Bowers participated in the International Criminal Tribunal for the former Yugoslavia from 1994-98. After acting as both the Chief Deputy City Attorney for Los Angeles and as the United States Attorney for the Central District of California, Bowers recently joined a private law firm, Howrey LLP, to participate in its Global Litigation Practice Group. During his distinguished career with both domestic and international courts, Bowers helped prosecute suspects ranging from tax violators to neo-Nazi arsonists and Balkan war criminals.
This panel discussion with David Scheffer and Terree Bowers is jointly sponsored by the Center for the Study of the Holocaust, Genocide and Human Rights and the Athenaeum.