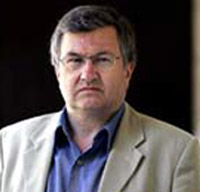 Coercion and Consent in Nazi Germany
RICHARD EVANS
MONDAY, APRIL 3, 2006
As one of the world's foremost historians concerning modern German history, Richard Evans has demonstrated a remarkable ability to introduce new interpretations to an area that has long been a focus of historical study. His latest work, The Third Reich in Power, 1933-1939 (2005), is the second of a planned three-volume study of Germany during the rise, reign, and subsequent fall of the Nazi Party. (The first volume, entitled The Coming of the Third Reich, was released in 2003) By focusing on the Nazis' oft-overlooked domestic policies while in power before the onset of World War II, Evans adds a new dimension to our understanding of Nazi methods and ambitions; at the same time, we cannot help but be reminded of those horrors of Nazi Germany that have become etched in our common memory.
In addition to his recent scholarship regarding Nazi Germany, Evans is the author or editor of numerous books examining the social and cultural trends of modern Germany since the 19th Century. Some of these works include The Feminist Movement in Germany, 1894-1933 (1976); Rituals of Retribution: Capital Punishment in Germany 1700-1987 (1996); and Tales from the German Underworld: Crime and Punishment in the Nineteenth Century (1998). He has also edited the Journal of Contemporary History since 1998. Evans' thorough research and prolific writing has earned him numerous awards, including the Wolfson Literary Award for History and the Fraenkel Prize in Contemporary History. He is a Fellow of the British Academy, the Royal Society of Literature and the Royal Historical Society.

This lecture by Richard Evans is sponsored by the Gould Center for Humanistic Studies at CMC.