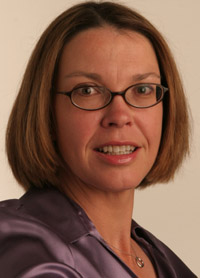 Birthing the Nation: Sex, Science, and the Conception of Eighteenth-Century Britons
LISA CODY
MONDAY, APRIL 17, 2006
There is a powerful tendency to view past societies in purely rational terms: economic growth, military victories, and decisions of leadership. Yet it is important to resist this temptation, if for no other reason than that those societies rarely, if ever, viewed themselves in such a light. Instead, the critical eye must seek out historical understanding through the lens of the society itself, embracing the odd and sometimes alien metaphors that characterized the mindset of past cultures.
Lisa Cody, professor of history and chair of the history department at Claremont McKenna College, is exploring new territory in her examination of sex, gender, and their roles in shaping the larger national consciousness of 18th Century Great Britain. Her recently released book, Birthing the Nation: Sex, Science, and the Conception of Eighteenth-Century Britons (2005), attempts to integrate previously overlooked themes concerning sex and gender into a larger narrative of British political, economic, and social development. The book has already received the Phi Alpha Theta Prize, from the History Honor Society, for the Best First Book in any Historical Field in 2005, and the Sierra Prize from the Western Association of Women Historians, to the best book published by an association member in the last year in any field of history. Additionally, Professor Cody has earned recognition for several of her journal articles, including the Walter D. Love Article Prize for British History in 2005 and the Judith Lee Ridge Article Prize for women's history in both 2002 and 2005.
Professor Cody graduated from Harvard and Radcliffe Colleges in 1987, and received her M.A. and Ph.D. from the University of California, Berkeley in 1990 and 1993, respectively. She taught at Stanford University and Denison University before joining the faculty at Claremont McKenna in 1996.

Lisa Cody's lecture is part of the ongoing Athenaeum series Faculty Ideas in Progress.