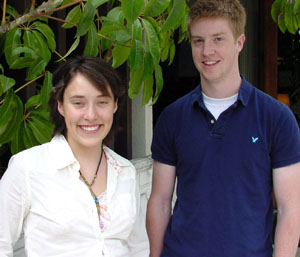 GREETINGS FROM THE FELLOWS
SARA ROBERSON '09
NICK ZOSEL-JOHNSON '07
Sara Roberson '09 and Nick Zosel-Johnson '07 will begin their fall academic year with one of the most coveted jobs on campus ––– as Athenaeum fellows for the Marian Miner Cook Athenaeum. Fellows not only eat at the head table with influential speakers from the fields of business, politics, and the arts, but introduce speakers to Athenaeum audiences four times a week.

One of Roberson's and Zosel-Johnson's chief duties is to help write and edit the Athenaeum's bi-weekly newsletter, The Fortnightly. In addition, the Fellows work with Athenaeum director Bonnie Snortum to develop themes and strategies for bringing distinguished guests to campus.

"Athenaeum fellows are selected on the basis of academic strength, breadth of interests and intellect, and communication skills," says Athenaeum director Bonnie Snortum. "Sara and Nick embody all of the above, as well as a nice balance of diverse interests."

Roberson calls the Athenaeum an irreplaceable facet of CMC. "It offers members of our community the amazing opportunity to learn from and interact with various exemplary members of the 'real world,' " she says. "Perhaps even more importantly, I feel that the Ath aims for inspiration, something that is sometimes overlooked in the more rote aspects of conventional education."

Zosel-Johnson concurs: "Students interact with professors, members of the community, and with working professionals," he says. "The Athenaeum was one of the main reasons I decided to come to CMC. I think it is a defining feature of the school."

Zosel-Johnson, a government major, is interested in the theory of American Exceptionalism and hopes to see a speaker series developed on the future of American-led "Democratization." Roberson, who has not yet declared a major but suspects it will be an amalgam of history and foreign languages, says that booking former President Jimmy Carter would be a dream come true.