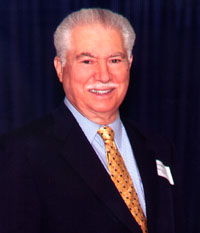 Iran and the Baha'is: A History of Persecution
FIRUZ KAZEMZADEH
WEDNESDAY, SEPTEMBER 13, 2006
Firuz Kazemzadeh was born in 1924 in Moscow where his father served for many years on the staff of the Iranian Embassy. Kazemzadeh attended primary and secondary schools in Moscow. He received his college education in the United States, obtaining a B.A. (with great distinction, Phi Beta Kappa) and an M.A. from Stanford University in 1947 and a Ph.D. in Russian history from Harvard University in 1950. Having settled in the U.S., Kazemzadeh began his academic career as a research fellow in Slavic studies at the Hoover Institution, Stanford University. He was subsequently a research fellow at the Russian Research Center and the Center for Middle Eastern Studies at Harvard. In 1956 Kazemzadeh began teaching at Yale University where he was made professor of history in 1968 and, at various times, served as director of graduate studies in history, chairman of the Council on Russian and East European Studies, chairman of the Committee on Middle Eastern Studies, and Master of Davenport College. He retired in 1992.

Kazemzadeh has lectured as visiting professor at Stanford University, Harvard University, Columbia University, Lewis and Clark College, the University of Southern California Law School, Haifa University, and the University of Humanities in Moscow.

He is the author of The Struggle for Transcaucasia, 1917-1921 (1952); Russia and Britain in Persia, 1864-1914: A Study in Imperialism (1968), of chapters in several collective works such as the Cambridge History of Iran (1968), and of numerous articles in various journals.

Having been involved for many years in the defense of human rights, Kazemzadeh was appointed in May 1999 by President Clinton to serve on the United States Commission on International Religious Freedom. Kazemzadeh served on the Commission for two terms, retiring in May 2003. He has testified on numerous occasions on human rights issues before congressional committees.

Kazemzadeh is a Baha'i. His Baha'i activities included thirty-five years of service on the National Spiritual Assembly of the Baha'is of the U.S., the governing body of the American Baha'i community; teaching at Baha'i schools in Europe and America, lecturing in Europe, the Americas, Australia, and New Zealand, and the editorship 1966-2000 of World Order, a Baha'i magazine. Dr. Kazemadeh's lecture is cosponsored by the Center for the Study of the Holocaust, Genocide, and Human Rights and the Athenaeum.