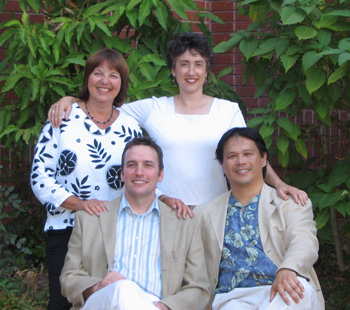 A Concert in Commemoration of Robert Schumann (1810–1856)
HAO HUANG, piano
RACHEL VETTER HUANG, violin
CHARLES KAMM, tenor
GAYLE BLANKENBURG, piano
THURSDAY, OCTOBER 19, 2006
Vastly undervalued in his own time and perhaps even in the present, Robert Schumann is truly one of the most remarkable Romantic composers of the first half of the nineteenth century. A German author and pianist born in 1810, he created some of the most introspective and individually expressive music of all time. Schumann founded a music journal,
Neue Zeitschrift für Musik
; he was a brilliant critic, whose writings embody the most progressive aspects of musical thinking of his time. His music is beloved by generations of pianists, who find exuberant joy and utter poignancy in his compositions. Furthermore, as a pianist composer, Schumann made the piano a full partner with singers in his lieder, often giving it an independent emotional life. The Athenaeum is graced by the presence of four internationally acclaimed musicians from The Claremont Colleges who are giving their Schumann concert at the Athenaeum in commemoration of the 150th anniversary of his passing in Endenich, 1856, in a program that spans the gamut from the composer's early to late works. This concert is jointly sponsored by the Athenaeum and the Gould Center.
PROGRAM
Fantasy for Piano, Opus 17
I. Durchaus phantastisch und leidenschaftlich vorgzutragen
Hao Huang, pianist

Sonata in a minor for Violin and Piano, Opus 105
I. Mit leidenschaftlichem Ausdruck
II. Allegretto
III. Lebhaft
Rachel Vetter Huang, violinist Hao Huang, pianist

Liederkreis, Opus 39
In der Fremde
Intermezzo
Waldesgespräch
Die Stille
Mondnacht
Schöne Fremde
Auf einer Burg
In der Fremde
Wehmut
Zwielicht
Im Walde
Frühlingsnacht
Charles Kamm, tenor Gayle Blankenburg, pianist

Four-time United States Information Agency Artistic Ambassador Hao Huang has gained critical acclaim in the Middle East, Asia, Africa, Europe, and North America. Winner of the Overman Foundation first prize, the Van Cliburn Piano Award at Interlochen, and the Leonard Bernstein Scholarship at Harvard, Dr. Huang has performed as a featured soloist at the George Enescu International Music Festival and the Barcelona Cultural Olympiad. Prior to joining the music faculty at Scripps College and Claremont Graduate University, Huang served on the faculties of the School of Music at Converse College and the Hochschule für Musik "Franz Liszt" in Weimar, Germany.

Violinist Rachel Vetter Huang has been honored with grants from both the National Endowment for the Arts and National Endowment for the Humanities. She has been guest artist for national conferences of the International Society for Music Education, the College Music Society, and the Music Teachers Association. Her performances and scholarship have been featured on NPR's Performance America, BBC II, and other radio outlets. With Hao Huang, she recently releasesd a CD of works by American Romantic composers on the VSA label. Dr. Huang holds degrees from Harvard University and SUNY at Stony Brook, and is currently on the faculties of Scripps College and Claremont Graduate University.

Tenor Charles W. Kamm has performed oratorio and recitals throughout the United States and in Austria, England, Sweden and Finland. Recent engagements include the role of the Madwoman in Benjamin Britten's chamber opera Curlew River, the Evangelist in the St. John Passion of J.S. Bach, tenor soloist at the Classical Music Festival in Eisenstadt, Austria, performances of Monteverdi's 1610 Vespers with Drottningholms Barockensemble in Uppsala, Sweden, and live radio broadcasts for Finnish National Radio. Mr. Kamm is on the faculties of Scripps College and the Joint Music Program of Claremont McKenna, Harvey Mudd, Pitzer and Scripps Colleges. He is completing a doctorate degree at Yale University.

Gayle Blankenburg has performed extensively to great critical acclaim as a solo pianist, chamber musician, and vocal accompanist. She was a roster artist with Southwest Chamber Music from 1996 to 2003, with whom she regularly performed and recorded. She has also performed with soprano Phyllis Bryn-Julson at the Library of Congress in Washington, D.C., in New York City, and in Vienna, Austria. She is currently a founding member of the Los Angeles based ensemble "inauthentica" with whom she has recorded works of Richard Cameron-Wolfe with soprano Lucy Shelton, and with whom she has recently recorded Schoenberg's Pierrot Lunaire with soprano Jennifer Goltz.