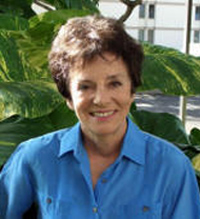 The Way We Never Were and the Way We Really Are: Myths and Realities About America's Changing Families
STEPHANIE COONTZ
MONDAY, NOVEMBER 6, 2006
Stephanie Coontz has been called "brilliant and invariable proactive" by the New York Times Book Review and "a treasure" by the Los Angeles Times. Her most recent book, Marriage, A History: From Obedience to Intimacy, or How Love Conquered Marriage (2005), rejects the idea that marriage today is in a state of crisis. Instead, she argues that relationships between men and women are healthier than they have ever been in the past; rather it is our society that is sick. Coontz has published several other works on family history, gender roles, and contemporary family issues.

A well-known lecturer and spirited debater, Coontz has addressed audiences throughout Europe, the United States, and Japan. She has also testified about her research before the House Select Committee on Children, Youth and Families. Her books have been translated into French, German, Spanish, and Japanese. Her Athenaeum lecture is co-sponsored by the Gould Center for Humanistic Studies and the Berger Institute for Work, Family, and Children.

Stephanie Coontz teaches history family studies at The Evergreen State College in Olympia, WA, and is the national Co-chair of the Council on Contemporary Families. A former Woodrow Wilson fellow, she has also taught at Kobe University in Japan and the University of Hawaii at Hilo. In 2004 she received the first Visionary Leadership award from the Council on Contemporary Families. She also received the Dale Richmond Award from the American Academy of Pediatrics for "outstanding contributions to the field of child development," the 2001-2002 Friend of the Family Award from the Illinois Council on Family Relations, and the Washington Governors' Writers Award.