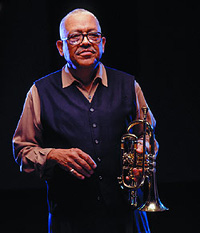 The Bobby Bradford Mo'tet: Jazz!
BOBBY BRADFORD, trumpet
WILLIAM JEFFREY, drums
CHUCK MANNING, saxophone
ROBERTO MIRANDA, bass
DON PRESTON, piano
KEN ROSSER, guitar
MICHAEL VLATKOVICH, trombone
MONDAY, NOVEMBER 20, 2006
Bobby Bradford, born in Mississippi in 1934, is considered a contemporary jazz master. A virtuoso performer on cornet and trumpet, a composer, and teacher, he has done just about everything that can be done in the musical world. When asked to describe his musical upbringing, he muses, "Early on, like all the kids, I was trying to copy solos from Dizzy and Miles and Fats Navarro. When I started trying to figure out something that was Bobby Bradford, I don't think you could put me in any of those camps." In 1949, he began playing the cornet in his high school band alongside Cedar Walton, "Fathead" Newman, and James Clay. Bradford first came to prominence in the seminal bands of Ornette Coleman from 1961 to 1963, where he was described by Coleman as "...one of the best cornet players playing today." After a brief stint with the U.S. Air Force Band, he moved to Los Angeles where he began working with famed clarinetist John Carter. Their association produced many recordings including the popular "Comin'On" on Hat Hut Records.
His career is distinct from so many other jazz musicians because of his refusal to move to the East Coast and make a name for himself in New York City. Many of his friends and contemporaries migrated, but Bobby Bradford always remained faithful to his home and his family, forgoing the fame he could have easily earned. "If no one can actually estimate the jazz world's loss, many can appreciate Southern California's gain— Bradford has been a vital catalyst of adventurous music on the West Coast for more than 25 years, and is a local treasure at Pomona College, where he teaches jazz history and directs jazz ensembles."

The Mo'tet is comprised of distinguished musicians from the Los Angeles area who have recorded and performed extensively at jazz venues throughout the country and abroad, most recently at the Los Angeles Museum of Art Jazz Concert Series. Bobby Bradford performed at the Athenaeum in 1994, along with former student, saxophonist David Murray. As described in a review by David Scott, this music is "not easy listening jazz or aural wallpaper. It commands your attention and rewards the effort, a work of modern art that keeps up with its company."

This concert is jointly sponsored by the Gould Center and the Athenaeum.