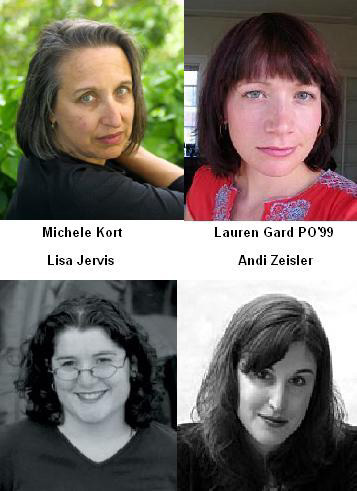 Women and Journalism: A Panel Discussion
LAUREN GARD, PO '99
MICHELE KORT
LISA JERVIS
ANDI ZEISLER
AUDREY BILGER, moderator
WEDNESDAY, NOVEMBER 15, 2006
LUNCH 11:45 a.m. DISCUSSION 12:15 p.m.
Since the early 20th century, journalism has been a field that has drawn large numbers of women writers, editors, and reporters. Women journalists have faced many challenges— ranging from lack of mainstream venue access to widespread disparagement of publications aimed at women; however, they have responded to these challenges in creative and inspirational ways.

Join us for a panel discussion with journalists who have worked in a variety of settings. Lisa Jervis and Andi Zeisler co-founded Bitch: Feminist Response to Pop Culture. Bitch began in 1996 as an all-volunteer zine with a circulation of 300 and is now an internationally distributed quarterly magazine offering feminist commentary on our intensely mediated world. Jervis is also a founding board member of the media training and advocacy organization Women in Media and News. Michele Kort is senior editor of Ms. magazine and frequent contributor to The Advocate. Lauren Gard, staff writer at the East Bay Express, a Village Voice Media-owned newspaper based in Oakland, Calififornia where she focuses on health and women's issues. Prior to joining the Express in June, Gard reviewed films and edited articles on international trends, health, sex, and astrology as an associate editor at Marie Claire in New York. The panel will be chaired by Audrey Bilger, CMC associate professor of literature, who teaches Women's Magazines and the Female Journalist.

This panel is co-sponsored by the Family of Benjamin Z. Gould Center for Humanistic Studies and the Athenaeum.