Athenaeum Location
Print Newsletter
January 19, 2007
Vol. 22, No. 05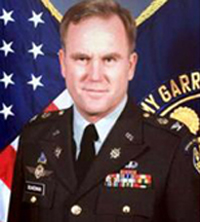 Improvised Explosive Devices in Iraq
MICHAEL BOARDMAN '74
FRIDAY, JANUARY 19, 2007
LUNCH 11:45 a.m. LECTURE 12:15 p.m.
As the United States enters its fourth year of military operations in Iraq, many insights and lessons learned have emerged in insurgent use of Improvised Explosive Devices (IEDs) and ways to counter these weapons. Colonel Michael Boardman (CMC '74), Director of the Army's Intelligence Electronic Warfare (IEW) Test Directorate, Fort Huachuca, AZ has served in a variety of key military intelligence command and staff assignments since he earned his degree in International Relations from CMC and was commissioned a Second Lieutenant in Military Intelligence via the CMC Army ROTC program in 1974. In 2002, Colonel Boardman served as the Director of Intelligence (J2) of Combined Joint Task Force 180 in Bagram, Afghanistan, the senior intelligence officer in theater focused on understanding, analyzing and finding Taliban and Al-Qaeda forces in Afghanistan and other locations throughout the world. In his current assignment, Colonel Boardman directs all final phase testing on emerging IEW systems that will be fielded to our Soldiers in the coming months and used in the GWOT. Colonel Boardman, while on active duty, also earned a Doctor of Jurisprudence from Willamette University, Salem, Oregon (1977) and a Master of Arts in International Security Studies at the Navy War College (1997).

Colonel Boardman's visit to CMC is sponsored by the CMC Army ROTC program. CMC hosts one of the oldest Army ROTC programs in the country with lineage that dates back to 1916 when it began as the Pomona College Army ROTC program.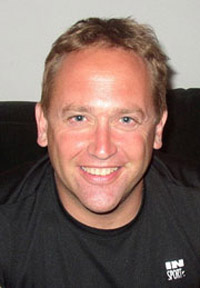 Orwell in the 21st Century
THOMAS CUSHMAN
MONDAY, JANUARY 22, 2007
George Orwell was one of the most influential authors of the 20th Century, hailed as a prophet on both the left and the right. His books, such as 1984 (1949) and Animal Farm (1945), are still assigned in an estimated 60,000 classrooms annually (including this year's Gould Seminar on the Humanities, Human Rights: Order/Disorder). But what is the relevance of Orwell's work today, more than a century after his birth and decades after his untimely death? Wellesley Professor Thomas Cushman, organizer of the George Orwell Centenary Conference, will explore this question.

This lecture is part of the Gould Seminar in the Humanities Series, and is co-sponsored by the Center for the Study of the Holocaust, Genocide and Human Rights.

Thomas Cushman is professor of sociology at Wellesley College. His areas of study include human rights, comparative sociology, genocide, and the sociology of culture. The author of numerous books and articles on topics ranging from cultural dissidence in Russia to the war in Bosnia and Hercegovina, he also was the founding editor of Human Rights Review and The Journal of Human Rights.

In May, 2003, Professor Cushman organized and hosted the George Orwell Centenary Conference, which brought together leading scholars and writers from around the world. The proceedings are available in a volume he edited, George Orwell Into the Twentieth Century (Paradigm Publishers 2005).

Professor Cushman has been a Mellon Foundation New Directions Fellow, an associate at Harvard's Carr Center for Human Rights Policy, and a fellow of the Salzburg Seminar Academic Core Session on "International Law and Human Rights." In 2004, Cushman became a faculty associate of the Center for Cultural Sociology at Yale University.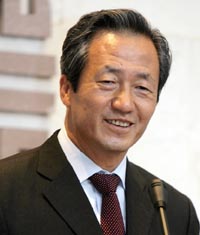 The United States and South Korea: Changing Relations
MONG JOON CHUNG
TUESDAY, JANUARY 23, 2007
LUNCH 11:45 a.m. LECTURE 12:15 p.m.
As a result of North Korea's decisions to launch several ballistic missiles and to test a nuclear device in 2006, the Korean Peninsula has reached a critical crossroads between war and peace. The United States and South Korea joined China, Russia, Japan, and North Korea in the recent session of the Six-Party Talks in Beijing, but failed to achieve an agreement for North Korea's nuclear disarmament. Hence, the United States and South Korea face a number of important questions, including the realignment of their bilateral alliance, the future of multilateral diplomacy, and the consolidation of effective deterrence toward North Korea.

Dr. Mong Joon Chung, a distinguished member of the South Korean National Assembly and a seasoned specialist of international affairs, will present his perspectives on the changing relations between the United States and South Korea, especially in regard to the North Korean nuclear issues. Born in 1951 as the sixth son of the Hyundai Founder, Dr. Chung received his B.A. in economics from Seoul National University, M.S. from the MIT Sloan School of Management, and Ph.D. from the School of Advanced International Studies, Johns Hopkins University.

As a political leader without party affiliations, Dr. Chung has been elected to the National Assembly since 1988. He was a candidate for the South Korean Presidency in 2002. He holds a number of professional and academic positions— such as Chairman of Hyundai Heavy Industries Corporation, Chairman of the Board of Trustees for Ulsan University, Chairman of the Board of Trustees for the Asan Foundation, member of the Board of Trustees for Korea University, member of the Board of Trustees for the Asia Society (New York), President of the Korea Football Association, and Vice President of FIFA (Federation International of Football Association).

He has written Ideology of Business Management, The Relationship between Government and Industry in Japan, and other books and articles on international economic and diplomatic topics.

The Keck Center for International and Strategic Studies is pleased to host Dr. Chung's visit to CMC as a Freeman Foundation Visiting Professor in Asian Affairs.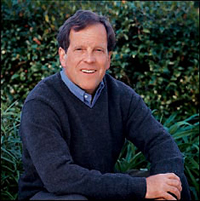 Convenient Opportunities: How We Can Learn to Love Licking Global Warming
CARL POPE
TUESDAY, JANUARY 23, 2007
Not afraid to speak his mind even when it is unpopular, Carl Pope is a veteran leader in the environmental movement. In 1992, Mr. Pope was appointed the Executive Director of the Sierra Club after serving there for nearly thirty years.

More recently, Pope led the charge in pressuring the Bush Administration to reverse its position against new rules that would lower the amount of arsenic in America's drinking water and mercury in U.S. fisheries. He is also an outspoken advocate to protect the Arctic National Wildlife Refuge and has worked furiously to stop energy legislation that would give tens of billions in subsidies to oil, coal and nuclear interests. Under Mr. Pope's leadership, the Sierra Club has helped protect nearly 10 million acres of wilderness.

In addition to his work with the Sierra Club, Pope has had a distinguished record of environmental activism and leadership. He has served on the Boards of the California League of Conservation Voters; Public Voice; National Clean Air Coalition; California Common Cause; Public Interest Economics, Inc.; and Zero Population Growth. Mr. Pope was also Executive Director of the California League of Conservation Voters and the Political Director of Zero Population Growth.

Carl Pope co-authored - along with Paul Rauber - Strategic Ignorance: Why the Bush Administration Is Recklessly Destroying a Century of Environmental Progress (2004), which The New York Review of Books called "a splendidly fierce book." In addition, during his tenure as director, the Aspen Institute named the Sierra Club the most influential environmental organization in Washington D.C.

Carl Pope's lecture is dedicated to the memory of Dr. Hariet Moeur, longtime member of the Joint Science faculty and the Sierra Club. Dr. Moeur was the chemistry laboratory coordinator at the Joint Science Department for 19 years. Both introductory and organic labs are taken each year by students from a variety of majors, so her career has had an impact on the education of thousands of students at the Claremont Colleges. Dr. Moeur passed away this past summer after battling cancer for four years. She will be missed for her unending dedication, commitment, and enthusiasm towards our students.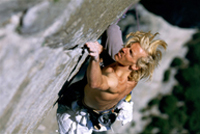 Light and Fast Adventures with Hans
HANS FLORINE
WEDNESDAY, JANUARY 24, 2007
Three-time successive ESPN X-Game gold medal champion Hans Florine is considered the world's fastest climber. Florine has been the U.S. National Speed Climbing Champion eleven times and won the world speed-climbing competition in 1991. He holds the world speed record for numerous ascents of big walls in Yosemite National Park. Most notably, he has set and broken the coveted speed record for climbing the classic big wall Nose route on El Capitan in Yosemite— climbing 3000 feet in two and a half hours. He has also climbed El Capitan and Half Dome one after the other, completing 5000 feet of climbing solo with a rope in under twenty-one hours. Florine has also claimed the speed record for ascending all fourteen of the legal California 14,000 foot peaks in under four days. He is the co-author of the popular book Speed Climbing!: How to Climb Faster and Better (2004) and is working with a publisher on a mainstream book to be released in the following year.

A full-time professional climber, Florine will share stories of his epic adventures to an impressive slideshow of his accomplishments. A lively and inspiring speaker, Florine will show how his lessons on speed and self-improvement can apply to everyday life.

There will be a book and poster signing following the event.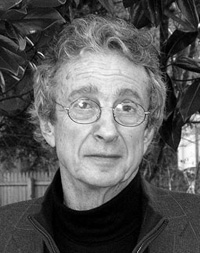 A Reading
C. K. WILLIAMS
THURSDAY, JANUARY 25, 2007
Charles K. Williams started writing poetry when he was 19, shortly after taking his last required English class at the University of Pennsylvania. "Poetry didn't find me, in the cradle or anywhere near it: I found it," he recalled. "I realized at some point— very late, it's always seemed— that I needed it, that it served a function for me— or someday would— however unclear that function may have been at first." Williams found his voice as a poet in the mid-sixties when writing to a magazine editor about the violence directed against civil rights activists. The process of writing this letter opened up a new way of thinking for Williams— a paradigm for writing all of his poetry. The result was "A Day for Anne Frank," a meditation that linked the civil rights movement with the Holocaust and became the opening poem of his first collection, Lies (1969). "After the Anne Frank poem . . . I seemed to be able to write poems I wanted to write, in a way that satisfied me, that made the struggle with the matter and form and surface of the poems bearable, and, more to the point, purposeful," wrote Williams. The Singing, Williams' most recent collection, explores topics surrounding aging: the loss of loved ones, the love of grandchildren, and the struggle to retain memories of childhood even while dealing with the complexity of current events. Today, Williams is considered one of the most esteemed living American poets.

Williams is the author of numerous books of poetry, including The Singing (Farrar, Straus, and Giroux, 2003), which won the National Book Award; Repair (1999), winner of a Pulitzer Prize; The Vigil (1997); A Dream of Mind (1992); Flesh and Blood (1987), which won the National Book Critics Circle Award; Tar (1983); With Ignorance (1997); I Am the Bitter Name (1992); and Lies (1969). Among his many awards and honors are an American Academy of Arts and Letters Award, a Guggenheim Fellowship, the Lila Wallace-Reader's Digest Award, the PEN/Voelcker Award for Poetry, the Twentieth Annual Ruth Lilly Poetry Prize; and a Pushcart Prize. Williams teaches in the creative writing program at Princeton University and lives part of each year in Paris.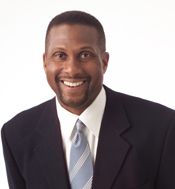 2007 DR. MARTIN LUTHER KING, JR. COMMEMORATION
Pathways to Civic Action: The Conscience of the Nation
TAVIS SMILEY
THURSDAY, JANUARY 25, 2007
7:00 p.m. MCKENNA AUDITORIUM
From his celebrated conversations with world figures, to his work to inspire the next generation of leaders, as a broadcaster, author, advocate and philanthropist, Tavis Smiley continues to be an outstanding voice for change.

Newsweek profiled him as one of the "20 people changing how Americans get their news" and dubbed him one of the nation's "captains of the airwaves."

Smiley hosts the late night television talk show, Tavis Smiley on PBS, and his radio show The Tavis Smiley Show on public radio is distributed by PRI, Public Radio International. Smiley is the first American ever to simultaneously host signature talk shows on both public television and public radio.

Smiley, who started his career as an aide to the late Los Angeles mayor Tom Bradley, also offers political commentary twice weekly on the Tom Joyner Morning Show. In addition, he has authored nine books. Smiley made publishing history when the book he edited, The Covenant with Black America (2006) (Third World Press) reached #1 on The New York Times bestseller list. His latest is What I Know For Sure: My Story of Growing up in America (2006) (Doubleday).

Though his schedule is hectic and his workload heavy, Tavis Smiley finds time to give back to the community that nurtured him. His non-profit organization, The Tavis Smiley Foundation whose mission is to enlighten, encourage, and empower African American youth, brings hundreds of young leaders together every year from across the nation for comprehensive leadership training. The National Youth to Leaders Summit in 2003 brought over 600 Black youth to Catholic University in Washington, D.C. to learn from the nation's most prominent African Americans - from Congresswoman Maxine Waters (D-CA) to Cornel West. He also takes time to travel to inner city high schools to speak directly with students. After more than six years of working with the Tavis Smiley Foundation, Natalia Bailey (CMC '10) is now a member of his National Youth Council which conducts these leadership conferences in different locations across the country.

Tavis Smiley is the recipient of numerous awards, including the 2006 NAACP Image Award, and several honorary doctorate degrees including one from his alma mater, Indiana University.

The 2007 Martin Luther King, Jr. Commemoration at The Claremont Colleges involves participation by all campuses of the consortium and the keynote address is supported by funds from the 5-College Planning Committee, CMC President Pamela Brooks Gann, the Dean of Students at CMC, and the Athenaeum.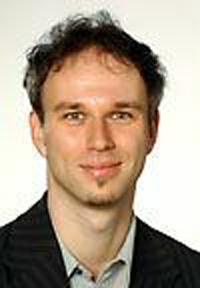 Social Psychology and Economics: Some Illustrations in the Fields of Fairness and Leadership
DAVID DE CREMER
MONDAY, JANUARY 29, 2007
David De Cremer is a young leadership scholar who works at the intersection of economics and social psychology. An economist might say, "What intersection?" Yet there is a growing literature that explores economic behaviors within a social context. Which are the economic versus psychological motives in ongoing social interactions? How do trust in authority or perceptions of procedural fairness affect cooperation? What is the role of social value orientations and the strategic use of fairness in ultimatum bargaining?

Educated in Belgium and England, De Cremer is a full professor of social psychology at Tilburg University in the Netherlands. He is the recipient of the British Psychology Society (BPS) award for "Outstanding Ph.D. in Social Psychology" (year 2000), a nominee for the American Psychology Association (APA) award in Group Psychology (year 2000), and the recipient of the Jos Jaspars Early Career Award for "Outstanding contributions to social psychology" awarded by the European Association of Experimental Social Psychology (year 2005). Having won the prestigious Netherlands Organization for Scientific Research Award in the year 2000, he is now the director of the Center for Justice and Social Decision Making at Tilburg University (www.centerofjust.nl) and a member of the Young Academy of Sciences in the Netherlands (Royal Netherlands Academy of Arts and Sciences). For the 2006-2007 academic year he is a research fellow at the Kennedy School of Government at Harvard.

Dr. De Cremer's most recent book, with co-editors Marcel Zeelenberg and J. Keith Munighan is Social Psychology and Economics, published by Erlbaum in 2006. Representative articles include "Respect and Cooperation in Social Dilemmas", as well as "Affective and Motivational Consequences of Self-sacrifice: The Moderating Effect of Autocratic Leadership", and "The Influence of Accuracy as a Function of Leader's Bias: The Role of Trustworthiness in the Psychology of Procedural Justice." He will discuss his integrative work on social psychology and economics through the lens of fairness and leadership studies.

Dr. De Cremer's visit is sponsored by the Kravis Leadership Institute as part of their series on Young Leadership Professionals.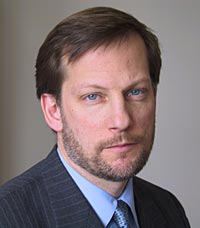 Torch in the Night, Candle in the Dark: Promoting Human Rights Since the Holocaust
JERRY FOWLER
TUESDAY, JANUARY 30, 2007
Professor Jerry Fowler, Podlich Distinguished Visitor, will address the development of international human rights norms in the decades after the Holocaust and the challenge of promoting those norms in an age of failed states, genocide and terror. This lecture is co-sponsored by the Center for the Study of the Holocaust, Genocide and Human Rights.

Jerry Fowler is the William F. Podlich Distinguished Visitor and Visiting Scholar at the Center for the Study of the Holocaust, Genocide and Human Rights. He is on leave from his position as the founding staff director of the Committee on Conscience, which guides the genocide prevention efforts of the United States Holocaust Memorial Museum. He previously was legislative counsel for the Lawyers Committee for Human Rights, where he worked on a broad array of human rights issues, including international justice and refugee and asylum policy.
His publications include the essay, "Out of that Darkness: Preventing Genocide in the 21st Century," in the 2nd edition of Century of Genocide: Eyewitness Accounts and Critical Views (Routledge, 2004). He also directed the short film, A Good Man in Hell: General Romeo Dallaire and the Rwanda Genocide (2003). Professor Fowler has taught at George Mason University Law School and George Washington University Law School, and has been a Scholar-in-Residence at American University's summer Human Rights Institute. He is a graduate of Stanford Law School and Princeton University. From 1983 to 1987, he was stationed in Germany as an officer in the United States Army. From 1993 to 1995, he served as Special Litigation Counsel for the U.S. Department of Justice.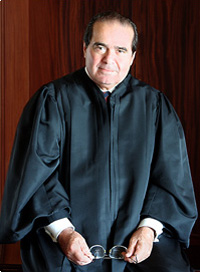 2007 Pacesetters Fellow
A Matter of Constitutional Intrepretation
ANTONIN SCALIA
WEDNESDAY, JANUARY 31, 2007
The Honorable Antonin Scalia, Associate Justice of the United States Supreme Court, graduated summa cum laude from Georgetown University where he was class valedictorian. He graduated magna cum laude from Harvard Law School where he served as note editor for the Harvard Law Review. In 1960, he was the Sheldon Fellow at Harvard University, allowing him to spend a year traveling in Europe.

Justice Scalia began his legal career with a nationally-prominent law firm in Cleveland where he practiced corporate finance, labor, and antitrust law. In 1967, he became a professor of law at the University of Virginia Law School. During the 1970s, Presidents Nixon and Ford appointed him to a number of administrative posts, including that of assistant attorney general in charge of the Justice Department's Office of Legal Counsel. He subsequently joined the faculty at the University of Chicago School of Law.

In 1982, President Reagan appointed Antonin Scalia to the United States Court of Appeals for the District of Columbia Circuit, where he honed his reputation for meticulous jurisprudence. In June 1986, President Reagan nominated him as an Associate Justice of the Supreme Court to fill the vacancy created by William Rehnquist's elevation to Chief Justice. On September 26, 1986, he took the oath of office.

Justice Scalia was born in Trenton, New Jersey. He married Maureen McCarthy in 1960.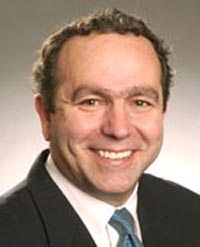 Hard Power: The New Politics of National Security
KURT CAMPBELL
THURSDAY, FEBRUARY 1, 2007
Kurt Campbell and Michael O'Hanlon, both seasoned scholars and practitioners, have provided a deeply insightful look into the current state of our national security politics. It is on these matters of war and peace that the fate of our country rests.
-William J. Perry, former Secretary of Defense
America's ideas about national security have changed radically over the last five years. It has become a political tool, a "wedge issue," a symbol of pride and fear. It is also the one issue above all others that can make or break an election. In Hard Power: The New Politics of National Security (Basic Books, 2006) Kurt Campbell, an authority on international security at the Center for Strategic and International Studies, and Michael O'Hanlon, an expert on foreign policy at the Brookings Institution, explain how the Democrats lost credibility on issues of security and foreign policy, how they can get it back— and why they must.

Kurt Campbell is senior vice president and director of the International Security Program at the Center for Strategic and International Studies. He is a contributing writer to The New York Times and frequent on-air contributor to NPR's "All Things Considered," and a consultant to ABC News. Campbell came to CSIS from the Department of Defense, where he served as deputy assistant secretary of defense. Prior to joining the Defense Department in 1995, he was the deputy special counselor to the president for NAFTA at the White House and a member of the National Security Council staff. Previously, he was an associate professor of public policy at the John F. Kennedy School of Government and assistant director of the Center for Science and International Affairs at Harvard University. Campbell holds a B.A. from the University of California, San Diego, a Ph.D. in international relations from Oxford University, and a certificate in music and political philosophy from the University of Erevan in Soviet Armenia.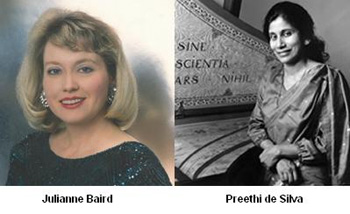 Con Gioia Early Music Ensemble: The Musical World of Jane Austen
JULIANNE BAIRD, soprano
PREETHI DE SILVA, fortepiano
ALFRED CRAMER, violin
EDWARD MAUGER, narrator
LAUREN MIKOV '07, narrator
MONDAY, FEBRUARY 5, 2007
Music and the social status it expresses was an integral part of Jane Austen's life, which spanned the period from 1775 to 1817. Her novels are replete with details of domestic musical activities. Accounts of public concerts and private balls, as well as music programs with hired musicians, fill her letters. A dedicated amateur herself, Austen ordinarily played at the pianoforte at least an hour a day before breakfast, from the eight-book music collection now preserved in her last home in the village of Chawton, in southern England. Tonight's program of songs and sonatas is selected from these works. Readings from Austen's novels will provide the context for them.

Con Gioia Early Music Ensemble, based in Claremont, presents some of the best performers of early music in the United States, as well as guest artists from abroad. The ensemble has performed concerts at the Santa Barbara Museum of Art, Frank Lloyd Wright's Hollyhock House, the Los Angeles County Museum of Art, CalTech, the Getty Villa, Pasadena Museum of California Art and the Claremont Colleges, among other southland venues of cultural events.

Julianne Baird, soprano, has been hailed a "national artistic treasure" (The New York Times) and as a "well-nigh peerless performer in the repertory of the baroque." With more than 125 recordings to her credit on Decca, Deutsche Gramophone, Dorian and Newport Classics, Julianne Baird is one of the world's ten most recorded classical artists. In addition to her major roles in a series of acclaimed recordings of Handel and Gluck operatic premieres, recent performances include her debut in the new Kimmel Center in Philadelphia followed by performances of Messiah in Princeton and in Carnegie Hall. Ms. Baird is distinguished professor at Rutgers University.

Born in Sri Lanka, Preethi de Silva, founder and artistic director of Con Gioia, has concertized extensively as harpsichordist and fortepianist in the United States, Western Europe, Australia, New Zealand, and Sri Lanka. Ms. de Silva is the winner of numerous awards and fellowships on both sides of the Atlantic, including the prestigious Erwin Bodky Award for early music performance and a Fulbright Senior Scholar Fellowship. Her recordings of several volumes of keyboard works by J.S. and C.P.E. Bach, J.G. Müthel, and Mozart have received high critical acclaim in the USA and in Europe. She is the lead harpsichordist in Con Gioia's recording of Bach's concertos for harpsichord. Following her London debut, The Daily Telegraph recognized her as "a musician of great accomplishment and imagination." She is professor emeritus of music at Scripps College.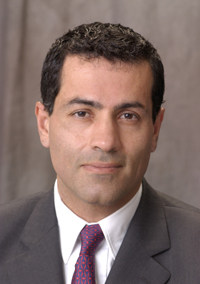 The Shia Revival: Politics in the Muslim World
VALI NASR
TUESDAY, FEBRUARY 6, 2007
Across the Muslim world - from Morocco in the west to Malaysia in the east to Muslim minority communities from London, Berlin and Marseille to Durban, Delhi or Sydney - Muslims are grappling with the challenges of integration, economic change, and political reform. As nations around the world struggle with the threat of militant Islam, Vali Nasr, one of the leading scholars on the Middle East, provides us with a rare opportunity of understanding the political and theological antagonisms within Islam itself. His most recent book, The Shia Revival: How Conflicts within Islam Will Shape the Future (Norton Press, 2006) is a penetrating historical account of sectarian conflicts in the Muslim world, and how the future rests in finding a peaceful solution to the ancient rivalries between the Shias and the Sunnia.

Vali Nasr is professor of Middle East and South Asia politics at the Naval Postgraduate School and an adjunct senior fellow at the Council on Foreign Relations. He is the author of The Islamic Leviathan: Islam and the Making of State Power (Oxford University Press, 2001); Mawdudi and the Making of Islamic Revivalism (Oxford University Press, 1996); The Vanguard of the Islamic Revolution: The Jama`at-i Islami of Pakistan (University of California Press, 1994).
Dr. Nasr has briefed the White House, the U.S. Department of State, the National Security Council, and the U.S. Department of Defense on Middle East issues. He has written for The New York Times, Washington Post, Christian Science Monitor, New Republic, and Wall Street Journal. He has provided expert commentary to CNN, BBC, National Public Radio, Public Radio International, The NewsHour with Jim Lehrer, CBS's Evening News, 60 Minutes, NOW with Bill Moyers, and NBC's Nightly News. He has appeared as a guest on The Charlie Rose Show and The Daily Show with Jon Stewart.

Vali Nasr's visit to CMC is jointly sponsored by Keck Center for International and Strategic Studies and the Athenaeum.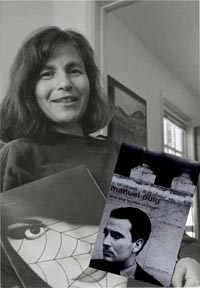 The Translator in Academe
SUZANNE JILL LEVINE
WEDNESDAY, FEBRUARY 7, 2007
One of the foremost translators of Latin American literature in the United States, Suzanne Jill Levine, will speak of her personal trajectory as a literary translator and critic, as well as the relevance of literary translation to literature and language programs today.

Levine is professor of Spanish and Portuguese at the University of California, Santa Barbara where she also teaches Comparative Literature. She is the author of El espejo hablado: un estudio de Cien años de soledad (Caracas: Monte Avila, 1975), Guía de Bioy Casares (Madrid: Fundamentos, 1982), Manuel Puig and the Spider Woman: His Life and Fictions (New York: Farrar, Straus & Giroux; London: Faber & Faber, 2000), as well as numerous articles, chapters, interviews, and book reviews. The Latin American and Hispanic writers she has translated include Jorge Luis Borges, Adolfo Bioy Casares, Guillermo Cabrera Infante, Julio Cortázar, José Donoso, Carlos Fuentes, Silvina Ocampo, Alejandra Pizarnik, Julián Rios, and Severo Sarduy. Her honors include a Guggenheim Fellowship (1996), the PEN American Award for Career Achievement in Hispanic Studies (1996), and several grants and fellowships from the National Endowment for the Arts and from the National Endowment for the Humanities.

Edith Grossman has said of Levine's book, The Subversive Scribe: Translating Latin American Fiction (St. Paul: Graywolf Press, 1991), "What she [Levine] has to say about the linguistic, personal, scholarly, and imaginative elements that the translator must bring to that process is an invaluable contribution to our understanding of translation in particular and creativity in general."

Professor Levine's Athenaeum lecture is jointly sponsored by the department of modern languages at CMC and the Athenaeum.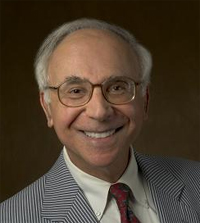 The Problem of Evil: Divine Love and Human Suffering
ROBERT AUDI
THURSDAY, FEBRUARY 8, 2007
LUNCH 11:45 a.m., LECTURE 12:15 p.m.
Can the amount and kind of evil in the world be reconciled with the existence of an all-knowing, all-powerful, and wholly loving God? If this is a world under God, how could there be the apparently unending killing and suffering that history has revealed? This perennial "problem of evil" has occupied philosophers and theologians since at least the early medieval period. It cannot be resolved without a conception of love, of human freedom, and of the nature of evil and its place in human life. Drawing on extensive work on all of these topics, Robert Audi will present an approach intended to lay the groundwork for dealing with the problem.

Audi is author of books in ethics, epistemology, philosophy of action, and philosophy of religion. His recent books include Religious Commitment and Secular Reason (Cambridge, 2000), The Architecture of Reason (Oxford, 2001), The Good in the Right (Princeton, 2004), Practical Reasoning and Ethical Decision (Routledge, 2006), and (as editor) The Cambridge Dictionary of Philosophy (1995, 1999). He is a past president of the American Philosophical Association and presently professor of philosophy and David E. Gallo Chair in Ethics, University of Notre Dame. His B.A. is from Colgate University, his Ph.D. from the University of Michigan.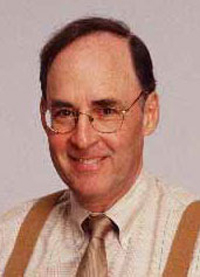 Saving Our Environment from Washington
DAVID SCHOENBROD
THURSDAY, FEBRUARY 8, 2007
Congress empowered the Environmental Protection Agency on the theory that only a national agency that is insulated from accountability to voters could produce the scientifically grounded pollution rules needed to save a careless public from its own filth. David Schoenbrod explains how his experience as an environmental advocate brought him to this startling realization: letting EPA dictate to the nation is a mistake.

The EPA is an agency that, under Democrats and Republicans alike, delays good rules, imposes bad ones, and is so big, muscle-bound, and remote that it does unnecessary damage to our society. EPA stays in power, he says, because it enables elected legislators to evade responsibility by hiding behind appointed bureaucrats. The best environmental rules-those that have done the most good- have come when Congress had to take responsibility or from states and localities rather than the EPA.

David Schoenbrod is Trustee Professor, New York Law School, and a senior fellow at the Cato Institute, a Washington, D.C. libertarian think tank. He frequently contributes to the editorial pages of The Wall Street Journal, The New York Times, and other newspapers and periodicals.

Schoenbrod's 1993 book, Power Without Responsibility: How Congress Abuses the People Through Delegation (Yale University Press), was the genesis for the 1996 Congressional Review of Agency Rule Making Act. In 2005, Yale released his new book, Saving Our Environment from Washington: How Congress Grabs Power, Shirks Responsibility, and Shortchanges the People. He coauthored Remedies: Public and Private (West, 2002) and Democracy by Decree: What Happens When Courts Run Government (Yale University Press, 2004).

David Schoenbrod's visit to CMC is sponsored by the Henry Salvatori Center for the Study of Individual Freedom in the Modern World.