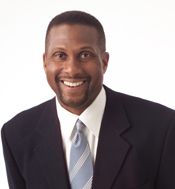 2007 DR. MARTIN LUTHER KING, JR. COMMEMORATION
Pathways to Civic Action: The Conscience of the Nation
TAVIS SMILEY
THURSDAY, JANUARY 25, 2007
7:00 p.m. MCKENNA AUDITORIUM
From his celebrated conversations with world figures, to his work to inspire the next generation of leaders, as a broadcaster, author, advocate and philanthropist, Tavis Smiley continues to be an outstanding voice for change.

Newsweek profiled him as one of the "20 people changing how Americans get their news" and dubbed him one of the nation's "captains of the airwaves."

Smiley hosts the late night television talk show, Tavis Smiley on PBS, and his radio show The Tavis Smiley Show on public radio is distributed by PRI, Public Radio International. Smiley is the first American ever to simultaneously host signature talk shows on both public television and public radio.

Smiley, who started his career as an aide to the late Los Angeles mayor Tom Bradley, also offers political commentary twice weekly on the Tom Joyner Morning Show. In addition, he has authored nine books. Smiley made publishing history when the book he edited, The Covenant with Black America (2006) (Third World Press) reached #1 on The New York Times bestseller list. His latest is What I Know For Sure: My Story of Growing up in America (2006) (Doubleday).

Though his schedule is hectic and his workload heavy, Tavis Smiley finds time to give back to the community that nurtured him. His non-profit organization, The Tavis Smiley Foundation whose mission is to enlighten, encourage, and empower African American youth, brings hundreds of young leaders together every year from across the nation for comprehensive leadership training. The National Youth to Leaders Summit in 2003 brought over 600 Black youth to Catholic University in Washington, D.C. to learn from the nation's most prominent African Americans - from Congresswoman Maxine Waters (D-CA) to Cornel West. He also takes time to travel to inner city high schools to speak directly with students. After more than six years of working with the Tavis Smiley Foundation, Natalia Bailey (CMC '10) is now a member of his National Youth Council which conducts these leadership conferences in different locations across the country.

Tavis Smiley is the recipient of numerous awards, including the 2006 NAACP Image Award, and several honorary doctorate degrees including one from his alma mater, Indiana University.

The 2007 Martin Luther King, Jr. Commemoration at The Claremont Colleges involves participation by all campuses of the consortium and the keynote address is supported by funds from the 5-College Planning Committee, CMC President Pamela Brooks Gann, the Dean of Students at CMC, and the Athenaeum.