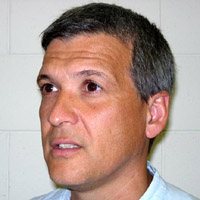 Defying Genocide in Rwanda
CARL WILKENS
MONDAY, FEBRUARY 12, 2007
LUNCH 11:45 a.m., Lecture 12:15 p.m.
Much of what the world remembers about the Rwandan genocide are grim tales of betrayal, of neighbors killing neighbors and the slaughter of innocents. But there are other stories of people who resisted the urge to kill and who risked their lives to save the lives of others.
-American Public Media: American RadioWorks.

In 1990 Carl Wilkens and his family moved to Kigali, Rwanda where Carl took up duties as the director of the Adventist Development and Relief Agency (ADRA). His work involved specific projects to improve the quality of life for the people in what then was a beautiful and peaceful country. When political upheaval and a program of genocide engulfed the country in the spring of 1994, within three months, from April 7 to July 4, between 800,000 and one million Tutsis are estimated to have died, with countless others left widowed, physically wounded, or psychologically scarred. Wilkens was the only American who chose to stay in the country to help save lives and render assistance in whatever way he could. In describing that day and watching the cars and trucks rolling by, he says, "This sadness just came over me . . . . If people in Rwanda ever needed help, now was the time. And everybody's leaving."

Wilkens' courage and life-saving interventions, including conversations with Rwanda's Prime Minister, have been the topic of numerous interviews and articles. African Rights recently honored Carl Wilkens as a "true humanitarian," and one of nineteen persons whose courage in rescuing people during the genocide in Rwanda in 1994 is presented in the book Rwanda: Tribute to Courage (2002).

Carl Wilkens is currently pastor of the Milo Adventist Academy Church in Southern Oregon and his visit to CMC is sponsored by the Gould Center for Humanistic Studies as part of its seminar series Human Rights: Order/Disorder taught by visiting professor in religious studies, Jerry Fowler.