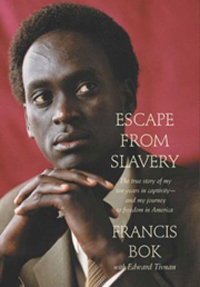 Twenty-first Century Slavery: Living Proof
FRANCIS BOK
WEDNESDAY, FEBRUARY 21, 2007
In 1986, when he was only seven, Francis Bok watched the Sudanese militia storm his village in southern Sudan. While the men of his village were slaughtered, Bok found himself strapped to a donkey and taken to the North, where for ten years he lived as a slave to a man named Giemma Abdullah. Though still a child, Bok was expected to tend to the family's vast herds of livestock. For ten years he was forced to endure daily threats and beatings, sleep with the cattle, and eat rotten food. Finally, at 17, he summoned the courage to escape, running for miles to the neighboring town of Matari.
Still, Francis Bok would continue to encounter several obstacles to his freedom. In Matari he was enslaved by the very police officers to whom he reported his abuse. Later, in the nation's capital of Khartoum, he was arrested and imprisoned by security forces for speaking openly among the city's refugee camps about his years of slavery. Bok was finally released in 1999 and granted UN Refugee Status the same year.
In 2000 Bok became the first escaped slave to testify before the Senate Committee on Foreign Relations in Washington, D.C. in hearings that were broadcast live on C-SPAN; he met with former Secretary of State Madeleine Albright later that day. Mr. Bok was invited to return to the White House in 2002 for the signing of the Sudan Peace Act, following which he spoke with President Bush.

Bok joined the American Anti-Slavery Group as an associate in 2000. Since then, he has spoken to academic and religious communities across the country. Most notably, he headed a panel on slavery at the Harvard Kennedy School of Government. He has been featured in The New York Times, The Wall Street Journal, The Boston Globe, and Essence Magazine, in addition to several radio and television shows.

Francis Bok's campus appearance is jointly sponsored by the Center for the Study of the Holocaust, Genocide, and Human Rights and the Athenaeum.