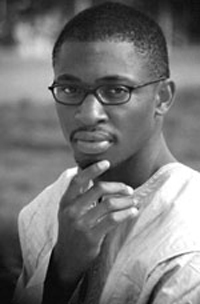 Beasts of No Nation
UZODINMA IWEALA
WEDNESDAY, MARCH 28, 2007
Lunch 11:45 a.m. Lecture 12:15 p.m.
At the age of 23, Uzodinma Iweala published his first novel, Beasts of No Nation (2005), the narrator of which is a young boy conscripted into a ragtag army of guerrilla fighters as civil war engulfs his unidentified West African country.

Iweala was born in Washington, D.C., in 1982. From the beginning of his life, his existence was one between cultures. He has spent much of his life traveling between the United States, United Kingdom, and Nigeria.

Iweala considers himself an American, but identifies strongly with his Nigerian roots. Most of his extended family lives in Nigeria. Growing up, his parents stressed the Nigerian aspect of his identity through yearly trips to the villages in which his mother and father grew up, use of the Igbo language in their house, and cooking of Nigerian food, which he claims is "better than you've previously ingested."

When he got to Harvard, Iweala initially thought he would study biology, economics, or government. After taking an introductory English class with Steven Greenblatt, however, he immediately changed his major to English. The writing of Beasts of No Nation evolved out of his senior thesis project. It quickly was selected "A Best Book of the Year" by Time, People, Slate, Entertainment Weekly, and New York Magazine. Salman Rushdie declared, "This is one of those rare occasions when you see a first novel and you think, this guy is going to be very, very good."

Iweala's lecture is sponsored by the Family of Benjamin Z. Gould Center for the Humanities.