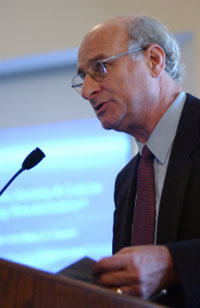 Surveying the Contemporary Free Market of Religious and Non-religious Americans
BARRY KOSMIN
WEDNESDAY, MARCH 7, 2007
Lunch 11:45 a.m., Lecture 12:15 p.m.
Identifying people by their religion is fraught with potential controversy. Who decides who counts as a Roman Catholic, for example? Should it be the parish priest? Who decides who is a Jehovah's Witness or Wicca? For a subject of such intense interest, the religious identity and beliefs of the American people has been surprisingly under-researched. For constitutional reasons, the government does not ask questions about religious identification in the Census. Few private surveys include or adequately differentiate the large number of people who identify with religious traditions and groups but are not members of congregations. Finally, there has been little detailed comparative research on the religious beliefs of Americans in smaller religious groups or among ethnic minorities.

In his recent book, Religion in a Free Market (2006), Kosmin overcomes the failings of much prior research on American religion by drawing heavily on the findings of the landmark American Religious Identification Survey (ARIS) 2001. This survey of 50,000 households covered a national, representative cross-section of the American public, and asked questions about religious identification, belief, and behavior. ARIS has been cited annually in the Statistical Abstract of the United States, a Census Bureau publication, as the primary data source for the religious identification of American adults.

Professor Kosmin is currently research professor in the public policy and law program at Trinity College, and Director of the Institute for the Study of Secularism in Society and Culture. He holds degrees from the Universities of London and McMaster (Canada) and has taught at universities in Europe, Africa, and North America. He is the author of over 20 books and research monographs and more than 50 scholarly articles in the areas of sociology, politics, philanthropy, and policy research. His scholarship includes Joint Series Editor (with Dr Sidney Goldstein) of the monograph series American Jewish Society in the 1990s for State University of New York Press and Joint Editor of the journal Patterns of Prejudice, (1999-2004). this lecture is cosponsored by the Salvatori Center for the Study of Individual Freedom in the Modern World and the Family of Benjamin Z. Gould Center for the Humanities at CMC.