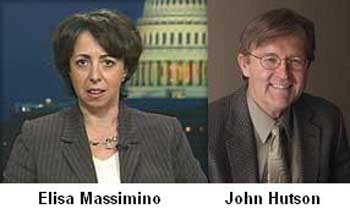 Torture and the War on Terror
ELISA MASSIMINO
JOHN HUTSON
WEDNESDAY, APRIL 24, 2007
In the national debate over such issues as the use of torture in the war on terror, an interesting alliance has formed between traditional human rights advocates and retired senior military officers. These unusual allies share a common concern that violations of international standards on the treatment of captives are a serious mistake. Invited by the Gould Center for Humanistic Studies, Elisa Massimino, Washington Director for Human Rights First, and retired Rear Admiral John D. Hutson, former top lawyer for the U.S. Navy, will present their perspectives on torture and the war on terror.

An expert on a range of international human rights issues, Massimino is a national authority on U.S. compliance with human rights law. She testifies frequently before Congress, writes extensively for legal and popular publications, and serves as Human Rights First spokesperson to the media. She has taught at the University of Virginia, Georgetown University, and George Washington University and has degrees from Trinity University, Johns Hopkins University, and the University of Michigan.

As the Navy's Judge Advocate General from 1997 to 2000, Admiral Hutson supervised the JAG Corps -- 1,600 officers, enlisted and civilian personnel in the U.S. Navy and the U.S. Marines -- and advised the Secretary of the Navy, the Commandant of the Marines, and the senior leadership of the Navy in all legal matters related to military justice. He has degrees from Michigan State University, the University of Minnesota, and Georgetown University.