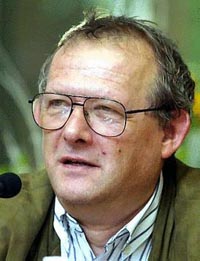 Democracy and Religion
ADAM MICHNIK
WEDNESDAY, APRIL 4, 2007
For me, General, prison is no unusually painful punishment. On that December night, it was not I who was condemned, but freedom; it is not I who am being held prisoner today, it is Poland.

-Adam Michnik to General Czeslaw Kiszczak

Adam Michnik is one of the greatest democratic leaders of 20th century Europe. One of the most influential dissident writers in Poland, he became a leading adviser to the Solidarity movement and one of the most powerful voices for nonviolent resistance to communism in the 1980s. After martial law was declared in December 1981, Michnik was imprisoned by the communist government for three years; but his Letters From Prison and Other Essays (1985) attest the persistence and power of his vision. Later, Michnik became a member of the Solidarity delegation that ended communist party rule in Poland, and he served as MP from 1989 to 1991.

An historian and literary critic, Michnik has authored several books on the Polish intellectual tradition, history, politics, and current affairs, and is a frequent contributor to The New York Review of Books and Der Spiegel. He is currently editor-in-chief of Gazeta Wyborcza, the largest daily in Poland.

Michnik's writings on post-communism are among the most influential not only in Poland but throughout the region and Europe. As historians and scholars have noted, his writings, like the Federalist papers or the articles and letters of Gandhi, are not only reflections on action but a form of action themselves. As a leading proponent of nonviolent transformation and tolerance in all spheres of life, Michnik was essential not only to the Polish revolution but to the shift in moral climate in all of Eastern Europe, both as an intellectual voice and as a political actor.

Born in 1946, Michnik was expelled from Warsaw University in 1968 for his role as a student activist, and subsequently sentenced to his first three years in prison. He became editor of two Warsaw underground journals, Krytyka and Zapis, before his work with Solidarity. He currently lives in Warsaw.

Adam Michnik is a visiting fellow at Loyola Marymount University in Santa Monica as well as Princeton University. His visit to CMC is sponsored by the Gould Center for Humanistic Studies.