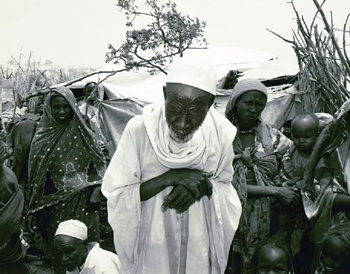 Darfur: So Far from Here
JERRY FOWLER
TUESDAY, APRIL 17 2007
LUNCH 11:45 a.m., LECTURE 12:15 p.m.
For over three years the Darfur region of Sudan has been embroiled in a deadly conflict. At least 400,000 people have been killed and more than 2.5 million innocent civilians have been forced to flee their homes. Today, there are more than 3.5 million men, women, and children that are completely reliant on international aid for survival.

Professor Jerry Fowler, Podlich Distinguished Visitor, will address the unfolding crisis in Darfur. His lecture will focus on the roots of the crisis in Darfur, the U.S. and international response to date, and the prospects for the future. This lecture is co-sponsored by the Center for the Study of the Holocaust, Genocide and Human Rights.

Jerry Fowler is the William F. Podlich Distinguished Visitor and Visiting Scholar at the Center for the Study of the Holocaust, Genocide and Human Rights. He is on leave from his position as the founding staff director of the Committee on Conscience, which guides the genocide prevention efforts of the United States Holocaust Memorial Museum. Previously he was legislative counsel for the Lawyers Committee for Human Rights, where he worked on a broad array of human rights issues, including international justice and refugee and asylum policy.

His publications include the essay, "Out of that Darkness: Preventing Genocide in the 21st Century," in the 2nd edition of Century of Genocide: Eyewitness Accounts and Critical Views (Routledge, 2004). He also directed the short film, A Good Man in Hell: General Romeo Dallaire and the Rwanda Genocide (2003). Professor Fowler has taught at George Mason University Law School and George Washington University Law School, and has been a Scholar-in-Residence at American University's summer Human Rights Institute. He is a graduate of Stanford Law School and Princeton University. Fowler was stationed in Germany as an officer in the United States Army from 1983 to 1987 and served as Special Litigation Counsel for the U.S. Department of Justice from 1993 to 1995.