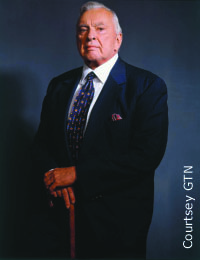 A Conversation with Gore Vidal
GORE VIDAL
JAMES MORRISON
TUESDAY, SEPTEMBER 18, 2007
Gore Vidal is a novelist, essayist, playwright, and provocateur whose career has spanned six decades, beginning in the years immediately following World War II and continuing into the early years of the twenty-first century. In addition to a major sequence of seven novels about American history, and such satirical novels as Myra Breckinridge (1968) and Duluth (1983), he has written dozens of television plays, film scripts, and Broadway plays such as Visit to a Small Planet (1957) and The Best Man (1960). He has also written hundreds of essays, gathered in several volumes.

In his latest work, Inventing a Nation: Washington, Adams, Jefferson (2004), Vidal explores the personalities, egos and conflicts of the founding fathers as they set up the institutions of government by which we still live. Vidal's recent books, Perpetual War for Perpetual Peace: How We Got to Be So Hated (2002) and Dreaming of War: Blood for Oil and the Bush-Cheney Junta (2002), are collections of essays investigating the roots and causes of the terrorist crises currently facing the United States.

Vidal's effect on America literary culture is immense, and his works have earned him a permanent place in American letters and politics. In an intimate, interview-style presentation, Vidal displays his forthrightness and wicked wit, discussing everything from current affairs and modern history to brilliant reminiscences of his extraordinary life. His essays on American culture and politics rank among the best of twentieth-century commentary. The collection of his essays entitled United States: Essays, 1952-1992 (2001) won the National Book Award. Vidal's memoir, Palimpsest: A Memoir (1996), is a remarkably entertaining record of his life and times, which are also the life and times of the nation.

Born in 1925 at the U.S. Military Academy in West Point, New York, raised in the Washington D.C. home of his grandfather, Oklahoma Senator Thomas Gore, Vidal shared a stepfather with Jackie Kennedy. After graduating from Phillips Exeter Academy, he enlisted in the Army during World War II, from 1943-1946. At age 19 he wrote one of the first American novels about World War II, Williwaw (1946). This was followed by eight novels in succession, including The City and the Pillar (1948), one of the first unequivocally gay novels in American fiction.

CMC Professor James Morrison will facilitate the discussion with Gore Vidal. This will be a rare and wonderful opportunity to meet one of America's most distinguished men of letters.