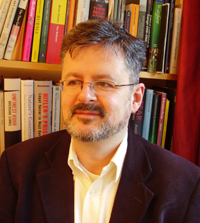 From Suicide Bombers to World Crisis: Serbia and the Outbreak of War in 1914
CHRISTOPHER CLARK
MONDAY, OCTOBER 8, 2007
LUNCH 11:45 a.m. LECTURE 12:15 p.m.
The crisis that culminated in the outbreak of war in 1914 began with a terrorist outrage perpetrated by a would-be suicide bomber in the city of Sarajevo. Gavrilo Princip was a Serbian subject of the Austro-Hungarian Empire who had secured guns and bombs from contacts in Belgrade, capital of the neighbouring Kingdom of Serbia. He belonged to a shadowy underground organisation coordinated and funded from within Serbia and he was an exponent of Serb ultra-nationalism. Yet the place of Serbia in the crisis that unfolded in July 1914 has often been passed over by historians more interested in analysising the great-power diplomacy that brought war in the first days of August. This talk sets the events of July in the context of the troubled political, cultural and economic history of modern Serbia, with a view to understanding the place of Belgrade in the events that brought war to Europe and the world.

Christopher Clark was educated at Sydney Grammar School and studied at Sydney University, the Freie Universität Berlin, and the University of Cambridge, where he is currently Reader in Modern European History. He has written widely in the field of modern German and European history. He co-edited Culture Wars: Catholic-Secular Conflict in Nineteenth-Century Europe (CUP: Cambridge, 2003). He is the author of The Politics of Conversion: Missionary Protestantism and the Jews in Prussia, 1728-1941 (OUP: Oxford, 1995), Kaiser Wilhelm II (Longman: Harlow, 2000) and Iron Kingdom: The Rise and Downfall of Prussia, 1600-1947 (Penguin: London, 2006), which won the Wolfson Prize for History, the HSK Buchpreis für Neuere Geschichte, and the Queensland Premier's History Prize in 2007.

Professor Clark's visit to campus is sponsored the Center for the Study of the Holocaust, Genocide, and Human Rights at CMC.