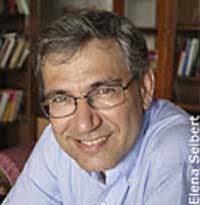 Orhan Pamuk: Other Colors, Other Stories
ORHAN PAMUK
THURSDAY, OCTOBER 18, 2007
At a time when people speak of an clash of civilizations between East and West, a time when national identity, history, and culture are called into question, a time when religion and politics seem as intertwined as ever, a time when even the boundaries of Europe are being debated, literature's fictions can be as powerful as the dutifully reported facts of current events. In a career spanning over three decades, author Orhan Pamuk has established himself as the preeminent author of his native Turkey. His writings have spawned controversy and debate, with repercussions in the world of politics and culture as well as in the world of literature. Pamuk's novels delve deep into his own personal history as well as issues of family, Turkish national history and identity, and the ever-present tension between secular Western culture and religion. Despite these esoteric themes, Pamuk's characters are bursting with verve, flaws, and an undeniable humanity that shines through their doubts and imperfections. It is no coincidence that Pamuk is regarded as one of the most astute and incisive observers of his country's character.

Born in 1952, Pamuk was raised in an affluent, Westernized neighborhood of Istanbul and attended private schools in the area. During his childhood and teenage years, he dreamed of being a painter, but decided at age 22 to devote his life to writing. His first novel, Cevdet Bey and Sons (1982), won a national prize for unpublished novels before it even went to press. Pamuk spent the late 1980s as a resident scholar at Columbia University, and has continued his relationship with that school. Later novels such as The Black Book (1990), My Name is Red (1998), and Snow (2002) brought him increasing acclaim, and in 2006 Pamuk was awarded the Nobel Prize in Literature for Istanbul. In its citation, the Nobel committee commended Pamuk, saying: "in the quest for the melancholic soul of his native city [he] has discovered new symbols for the clash and interlacing of cultures." The Athenaeum is truly honored to have a guest of such distinction and influence.

Orhan Pamuk's visit to CMC is jointly sponsored by the Gould Center for Humanistic Studies and the Marian Miner Cook Athenaeum.