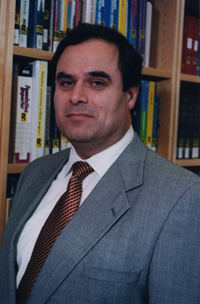 Opening the Archives of the International Tracing Service
PAUL SHAPIRO
THURSDAY, NOVEMBER 1, 2007
LUNCH 11:45 a.m. LECTURE 12:15 p.m.
In 1943, in the midst of World War II, the Allied forces asked the British Red Cross to set up a service to register and trace claims of missing and displaced persons affected by the horrors of war and Nazi tyranny. This Central Tracing Bureau soon evolved into the International Tracing Service (ITS), first under the control of the International Refugee Organization, and then the International Red Cross. By 1954, the ITS had moved to Bad Arolsen, Germany, and had resumed operations in the postwar Federal Republic of Germany. The ITS has collected over 50 millions reference files on some 17.5 million people. Today, the service still attempts to track displaced individuals, locating Holocaust survivors and long-lost relatives around the world.

Due to the massive amounts of records it holds and its desire to balance privacy concerns with a concern for the history of the Holocaust, the ITS works with an almost two-year backlog in processing the 200,000 requests per year that it receives. In 2006, however, the International Committee of the ITS finally decided to open the Service's documents and archives to researchers in all of its member states, the first step in the long process of enabling true public access to the archives.

Paul Shapiro, the Director of the Center for Advanced Holocaust Studies at the United States Holocaust Memorial Museum, has been at the forefront of the effort to open the archives of the ITS, testifying before Congress and encouraging worldwide efforts to track down Holocaust survivors while there is still time. Shapiro has been in charge of the Museum's Center since 1997, before which he spent over a decade on archival research and acquisition for the Museum in Romania, Moldova, and the Ukraine.

Shapiro is a member of the Interagency Working Group on Nazi War Crimes and Japanese Imperial Government Records, and contributed to the report of the International Commission on the Holocaust in Romania, chaired by Elie Wiesel. Shapiro's historical research was instrumental in the denaturalization and deportation case of Valerian Trifa, the Romanian Archbishop of the United States and a former Fascist leader in Romania.

Previously, Shapiro served in the Bureau of Educational and Cultural Affairs at the U.S. Information Agency, where he administered the Fulbright Fellowship Program. He has also served as the associate editor of the journal Problems of Communism and the Editor-in-Chief of the Journal of the International Affairs.

Shapiro has studied at Harvard University and Columbia University, and has been a Fulbright Scholar, and IREX Scholar, and a Visiting Fellow at the Institute for Eurasian Studies at The George Washington University.

This lecture is the first annual H. and R. Auerbach Lecture and is made possible through the generosity of the H. and R. Auerbach Lecture Fund through the Center for the Study of the Holocaust, Genocide, and Human Rights at CMC.