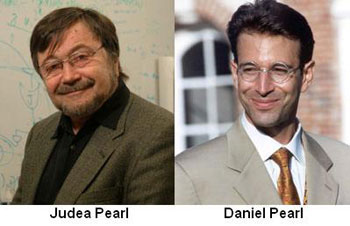 I Am Jewish: Personal Reflections Inspired by the Last Words of Daniel Pearl
JUDEA PEARL
TUESDAY, NOVEMBER 20, 2007
On January 23, 2002, Daniel Pearl, a journalist for the Wall Street Journal, was kidnapped on his way to an interview by a militant Islamic group. Nine days later, he was beheaded. The militant group, whose actions were well-document through video footage appearing on the Internet, claimed that they were simply killing a Jewish American spy. The international response to such a brutal act of modern anti-Semitism was swift, leading to the arrest of Ahmed Omar Saeed Sheikh and three other conspirators in Pakistan, who acknowledged that they had killed Pearl to "strike a blow at the United States" and "because he was a Jew working against Islam."

For Judea Pearl, a computer scientist and Daniel's father, there was still much work to be done. Judea Pearl and his wife Ruth founded the Daniel Pearl Foundation, an international non-profit organization which seeks to promote cross-cultural understanding through journalism, music, and communications. The Foundation has created programs such as the World Music Days and the PEARL World Youth News, which target youth, and the Daniel Pearl Journalism and Editorial Fellowships, which directly targets foreign journalists to help them understand things from an American perspective. Judea and Ruth Pearl are also the co-editors of I Am Jewish: Personal Reflections Inspired by the Last Words of Daniel Pearl (2004).

In addition to serving as President of the new Daniel Pearl Foundation, Judea Pearl remains a Professor of Computer Science and Statistics at the University of California, Los Angeles and the director of UCLA's Cognitive Systems Laboratory, where he has published significant academic texts, such as Causality: Models, Reasoning, and Inference (2000).

Judea Pearl's lecture at the Athenaeum is jointly sponsored by the Center for the Study of the Holocaust, Genocide, and Human Rights and the Marian Miner Cook Athenaeum.