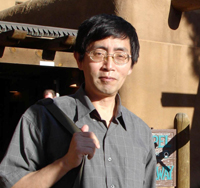 An Evening with the Poet
BEI DAO
THURSDAY, NOVEMBER 8, 2007
As Beijing comes to the foreground of international attention as the host of the 2008 Olympics, it is worthwhile to take a moment and reflect on the significance of human rights and freedoms in Chinese society. While many of us take such basic tenets of civil liberties as the freedom of speech for granted, many Chinese artists have paid a high price for maintaining the integrity of their expression. The Athenaeum is pleased to welcome one of the leaders of the group of modern Chinese artists who dared cut against the grain of the established orthodoxy, Bei Dao.

Bei Dao is one of the most gifted writers in modern China, and his poetry, essays, and fiction have animated and inspired the Chinese pro-democracy movement. Born in Beijing in 1949, Bei Dao spent his teenage years participating in the Cultural Revolution as a member of the Red Guards. He later became disillusioned with the violence and restrictions of the Revolution, and in 1978 he co-founded Jintian (Today), the first unofficial literary journal since 1949. Until it was banned in 1980, Jintian was a prominent forum for the "Misty Poets," a group opposed by the Communist literary establishment for their use of "obscure" language and their departure from socialist realism. As the most notable representative of the Misty Poets, Bei Dao's poetry also played an important role as a source of rhetoric and language for the pro-democracy demonstrations in Tiananmen in 1976 and 1989.

Since the late 1980's, Bei Dao has been living in exile, teaching in several European countries as well as the United States. His poetry has been translated in some twenty-five languages around the world, including several volumes of poetry, stories, and essays in English: Unlock (2000), Landscape Over Zero (1996), Forms of Distance (1994), Old Snow (1992), The August Sleepwalker (1990), Waves (1990), Midnight's Gate (2005) and Blue House (2000). His impressive literary production has been accompanied by international acclaim, including the the Tucholsky Prize from Swedish PEN (1990) and an honorary membership of the American Academy of Arts and Letters. Bei Dao's writings offer a window into the soul of modern China, depicting intimacy, love, and friendship in a society where trust can literally be a matter of life and death.

Bei Dao's visit to the Athenaeum is sponsored by the Gould Center for Humanistic Studies at CMC.