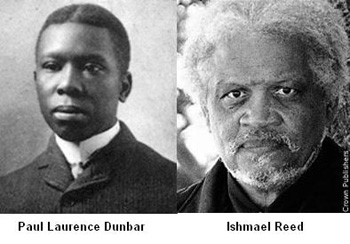 Selected Poems of Paul Laurence Dunbar
ISHMAEL REED
MONDAY, NOVEMBER 12, 2007
In November 1995 the Athenaeum welcomed Ishmael Reed to Claremont McKenna College and it is a privilege to once again host him on our campus. Reed, a prolific novelist, essayist, playwright, and poet, will engage himself with the works of Paul Laurence Dunbar, contributing to the documentary film project on the life of Dunbar and produced by CMC alumnus, Sam Reece '74.

Ishmael Reed is the author of nine novels, six plays, one opera libretto, seven books of poetry, six books of essays, and the editor of numerous anthologies and magazines. Reed has won acclaim for his writing in all literary genres. Leading American composers have set his poetry to music in works that have been performed by such artists as Taj Mahal and Bobbie Womack. Harold Bloom designated his novel Mumbo Jumbo (1972) one of the 500 important books of the Western canon. His most recently published poetry collection, New and Collected Poems, 1964-2006 (Carroll & Graf, 2006), was listed as one of the four best books of poetry published in 2006 by The New York Times Book Review and received the 2007 California Book Award's Gold Medal in Poetry, a year in which the paperback edition was also released. His seventh book of essays, Mixing It Up: Taking On The Media Bullies & Other Reflections (Da Capo Press), will appear Fall, 2007, and a non-fiction study of Muhammad Ali is forthcoming from Random House in 2008. He received the Chancellor's Award for Community Service from the University of California, Berkeley, where he taught creative writing courses in the English Department for thirty-five years, retiring emeritus as of January, 2005. Reed has also taught at Yale, Harvard, Dartmouth, and the University of Washington, Seattle, and SUNY Buffalo.

Paul Laurence Dunbar was the first African-American to gain national eminence as a poet. Born in 1872 in Dayton, Ohio, he was the son of ex-slaves. A classmate to Orville Wright of aviation fame, Dunbar was the only African-American in his class at Dayton Central High, where he rose to great heights. He was a member of the debating society, editor of the school paper and president of the school's literary society. Although he lived to be only 33 years old, Dunbar was prolific, writing short stories, novels, librettos, plays, songs and essays as well as the poetry for which he became well known. His style encompasses two distinct voices - the standard English of the classical poet and the evocative dialect of the turn-of-the-century Black community in America. He was gifted in poetry - the way that Mark Twain was in prose - in using dialect to convey character. Oak and Ivy, his first collection, was published in 1892. He ultimately produced 12 books of poetry, four books of short stories, a play and five novels. His work appeared in Harper's Weekly, the Sunday Evening Post, the Denver Post, Current Literature and a number of other magazines and journals. (From the Paul Laurence Dunbar Web site, a project of the Public Relations office of the University of Dayton.

CMC assistant professor of literature, Adam Bradley, will moderate the evening. Professor Bradley is the author of the forthcoming Book of Rhymes: The Poetics of Hip-Hop (2008) and The Collected Manuscripts of Ralph Ellison's Second Novel (2008). This evening's presentation is cosponsored by the Claremont Colleges Intercollegiate Department of Black Studies and CMC alumnus Sam Reece '74.