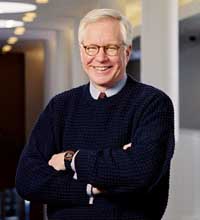 Good Capitalism, Bad Capitalism, and the Economics of Growth and Prosperity
CARL SCHRAMM
THURSDAY, NOVEMBER 15,2007
A mere century ago, the purchasing power of an average American was one-tenth of what it is today. But what will it take to sustain our phenomenal growth through the next century? And what can be done to stimulate economic growth for developing nations seeking higher standards of living for their citizens? In this informative presentation, Carl Schramm, coauthor of Good Capitalism, Bad Capitalism (2007), will contend that the answers to these questions lie within capitalist economies, though many observers make the mistake of believing that "capitalism" is of a single kind. Schramm will document four varieties of capitalism and explaining how some are good and some bad for a nation's economic stability and growth.

President and CEO of the Kauffman Foundation since 2002, Carl Schramm is one of the world's most recognized experts on fostering and advancing entrepreneurship. Before joining the Foundation, Schramm was a cofounder of HCIA, Inc. and Patient Choice Health Care, and he founded Greenspring Advisors, a consulting and merchant banking firm in the health information and risk management industries. He also served as executive vice president of Fortis (now Assurant) and as president of its health insurance operations.
Schramm's recent books include Good Capitalism, Bad Capitalism (2007), with Robert Litan and William Baumol, and The Entrepreneurial Imperative (2006). His work has appeared in Foreign Affairs, The Wall Street Journal, USA Today, and Newsweek, as well as in leading academic journals. He is a contributing editor of Inc. magazine. Schramm received two consecutive NIH Career Scientist Awards and was a Robert Wood Johnson Health Policy Fellow at the National Academy of Science, Institute of Medicine. He is a Batten Fellow at the Darden School of the University of Virginia, a Fellow of the New York Academy of Medicine, a member of the Council on Foreign Relations, and a fellow of the Royal Society of Arts. He received the George Eastman Medal from the University of Rochester in 2005. Carl J. Schramm's lecture is sponsored by the Henry Salvatori Center for the Study of Individual Freedom in the Modern World.