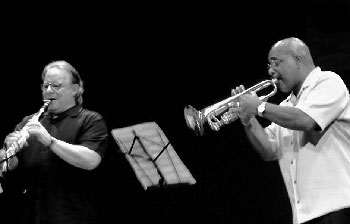 Duology Plus Two
TED DANIEL, trumpet
MICHAEL MARCUS, reeds
DAN LUTZ, bass
LORCA HART, drums
WEDNESDAY, FEBRUARY 13, 2008
Ted Daniel and Michael Marcus are vibrant, master jazz soloists, seasoned New York musicians, experienced in all genres of the music. Yet, each sought out the other, from among many other available musicians, to form an extraordinary jazz collaboration. Their motivation was to share a kindred spirit of creativity: they aspire to express themselves in unique terms, and as a consequence, to not utilize repetitive, borrowed or routine expressions that may now be familiar to jazz listeners. In the words of Dr. Billy Taylor:
"(Jazz is) not about new is different. Jazz is like a language. You don't speak in the same way that your parents spoke. It's the same language, but you speak it in your way." (from Jazziz)

Their project - an experiment in listening and playing together as a duet - began in 2006. It is called Duology. It poses an exciting musical challenge in which " … you don't have a drum to keep time, nor do you have a bass to play the chords out. … What it does is make one listen to the other person very intently" (Ted Daniel). This should remind us that although Duology's expressions may be novel, the Duology experiment reaches to heart of jazz definition. "Jazz musicians interact and learn from one another as they perform. That's what jazz is. Many times, I've listened to recordings I've made and said, 'Wow, I don't remember doing that! I never practiced that phrase before.' I played it because of what the other musicians were playing at the time." (Rufus Reid, educator, bassist)

For their Athenaeum performance, Marcus and Daniel will be joined by bassist Dan Lutz and drummer Lorca Hart so that Duology can deliver a snapshot of jazz history, reaching from Dixieland to free abstraction!
No one should neglect attending and absorbing this core exposure to pure jazz.