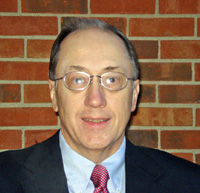 War, Peace, and George Washington's Presidency
RYAN BARILLEAUX
MONDAY, FEBRUARY 18, 2008
LUNCH 11:30 a.m. LECTURE 12:00 p.m.
Presidential power and responsibility are not only interconnected, but highlighted in the President's role as commander-in-chief. Through his conduct of office, George Washington revealed the fundamental nature of executive power and constitutional responsibility, and set key precedents for his successors. He also demonstrated the political virtue of prudence in his conduct of the presidency, and that virtue is the key to understanding and appreciating his contribution to the success of the American Republic.

Ryan J. Barilleaux is professor and chair, Department of Political Science, Miami University, Oxford, Ohio. He is the author or editor of seven books on the presidency and American politics, including The President as World Leader (1991), The Post-Modern Presidency: The Office after Ronald Reagan (1988), Presidential Frontiers: Unexplained Issues in White House Politics (1998), and Power and Prudence: The Presidency of George H.W. Bush (2004). In addition, he has published dozens of articles on the American presidency, religion and politics, and other aspects of politics. His work has appeared in such scholarly outlets as Congress and the Presidency, Crisis, Perspectives on Political Science, Revista de Estudios Politicos, and Catholic Social Science Review. Professor Barilleaux received a B.A., summa cum laude, from the University of Louisiana at Lafayette (1979), and an M.A. (1980) and Ph.D. (1983) from the University of Texas at Austin. Prior to his service at Miami University, he was a member of the faculty of the University of Texas at El Paso and served as a staff aide to Senator J. Bennett Johnston, United States Senate.

Professor Barilleaux's lecture is sponsored by the Salvatori Center for the Study of Inidividaul Freedom in the Modern World in commemoration of the birthday of President George Washington.