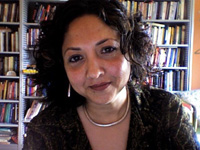 Traveling Cultures of Servitude: Loyalty and Betrayal in New York and Calcutta
RAKA RAY
MONDAY, FEBRUARY 18, 2008
Raka Ray is Sarah Kailath Chair of India Studies, associate professor of sociology and South and Southeast Asia Studies, and Chair of the Center for South Asia Studies at the University of California, Berkeley. She grew up in Calcutta, India, but has moved steadily west since then, receiving her A.B. from Bryn Mawr College, and her Ph.D. from the University of Wisconsin, Madison. She has been at Berkeley since 1993.

Professor Ray's areas of specialization are gender and feminist theory, domination and inequality, cultures of servitude and social movements. Publications on social movements include Fields of Protest: Women's Movements in India (University of Minnesota, 1999; and in India, Kali for Women, 2000), Women's Movements in the Third World: Identity, Mobilization and Autonomy with Anna Korteweg (Annual Review of Sociology, 1999) and Social Movements in India: Poverty, Power, and Politics, co-edited with Mary Katzenstein (Rowman and Littlefeld, 2005).

Together with Seemin Qayum, she has just completed a manuscript titled Cultures of Servitude: Modernity, Domesticity and Class in India. Articles from that project include "Masculinity, Femininity And Servitude: Domestic Workers in Calcutta in the Late Twentieth Century" (Feminist Studies 2000), and (with Seemin Qayum) "Grappling with Modernity: Calcutta's Respectable Classes and the Culture of Domestic Servitude" (Ethnography 2003).

Professor Raka Ray is brought to CMC by the Berger Institute for Work, Family, and Children.