Athenaeum Location
Print Newsletter
February 25, 2008
Vol. 23, No. 07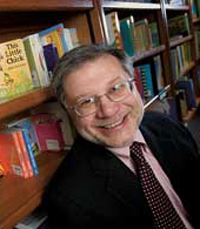 Does the English Language Have a Future?
SETH LERER
MONDAY, FEBRUARY 25, 2008
Seth Lerer was born in Brooklyn the year before the Dodgers left for California. After attending Wesleyan University, Oxford, and the University of Chicago, and teaching at Princeton for ten years, he eventually followed them - ending up not in Los Angeles, but Stanford, where, in 1990, he joined the faculty as professor of English. He currently directs the Stanford Humanities Fellows Program, a postdoctoral research and teaching program. He has taught literature and the history of the English Language for twenty-eight years. At Stanford, he has received the Hoagland Prize for Undergraduate Teaching (1993) and the Dean's Award for Graduate Teaching (2003).
Lerer has published widely in the field of medieval studies, and his interests include the history of reading, courtly culture, and children's literature. In addition to Inventing English (Columbia, 2007) he has published seven other books, including, Chaucer and His Readers (Princeton, 1993) which received the Beatrice White Prize of the English Association of Great Britain, and Error and the Academic Self (Columbia, 2002) which received the Harry Levin Prize of the American Comparative Literature Association. His new book, Children's Literature: A Reader's History from Aesop to Harry Potter, will appear from the University of Chicago Press in May 2008.

In his Athenaeum lecture, Professor Lerer will look at the past and present of the English language to explore the ways in which it changes and to think about some ways in which we might expect to sound and look in the future.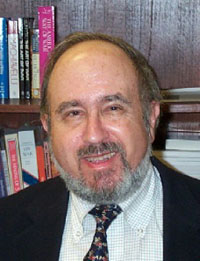 Creating the Roman Juggernaut: How Rome Broke from the Pack in the Ancient Mediterranean
ARTHUR ECKSTEIN
TUESDAY, FEBRUARY 26, 2008
Millennia after the founding of the Roman Republic in the late 6th century BC, the success and resiliency of the nascent empire are still an issue of debate amongst scholars, and it is of special interest for those interested in the rise and fall of empires throughout history. Conventional wisdom focuses on what are perhaps the most tangible aspects of Roman success—its military power. Historians point to the militarism and aggressiveness of the Republic, arguing that these led to the eventual dominance that Rome enjoyed by the period of the Late Republic in the 1st century BC. What is often overlooked, however, is that these characteristics were shared by all other Mediterranean states. To adequately explain the remarkable nature of Rome's rise, historian Arthur Eckstein has looked to the dynamics of Roman domestic and international politics, and in so doing has developed a far richer, more interesting, and more compelling analysis of the Mediterranean hegemon's unprecedented preeminence. Professor Eckstein's visit to CMC is planned jointly with CMC professor of history Shane Bjornlie as the first lecture in the series Insights from the Ancients: American Political Culture through a Classical Lens.

Arthur Eckstein is a professor of history at the University of Maryland, with a special focus on the Hellenistic world and Roman imperialism in the Republic. His three books, dozens of articles, and work as an editor have covered a broad range of topics, from Roman expansion to modern theories of economic imperialism to American film and popular culture. His most recently published work, Mediterranean Anarchy, Interstate War, and the Rise of Rome (2006), brings a novel perspective to the analysis of Roman history, utilizing modern international-systems theory to address the reasons behind Rome's extraordinary imperial success. Professor Eckstein's next work, due to be published this spring, will apply this same theoretical framework to a more detailed study of Rome's first engagement in the Hellenistic world, from 230-170 BC. He was also the major scholarly consultant on the Emmy Award-winning PBS film "Roman City (1994)." Professor Eckstein's visit to the Athenaeum promises to be both illuminating and captivating for anyone interested in ancient history, imperial development, or simply gaining context for watching an HBO miniseries.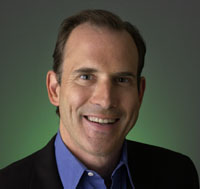 Inside the Black Box: Technological Innovation at Google
JONATHAN ROSENBERG '83
WEDNESDAY, FEBRUARY 27, 2008
LUNCH 11:30 a.m. LECTURE 12:00 p.m.
The Athenaeum is proud to welcome Jonathan Rosenberg '83 back to campus as part of our continuing series showcasing the successful careers of Claremont McKenna alumni. Mr. Rosenberg is the Senior Vice President of Product Management and Marketing at Google, where he oversees the design, creation, and improvement of the internet giant's product line, ranging from consumer products to business and publishing services. He directs the teams with a special focus on delivering exceptional user experiences, continuous innovation, and highly relevant, accountable , and untraditional marketing.

Before he joined Google in 2002, Rosenberg was a member of an extensive array of innovative Internet product development teams. He served first as director of product marketing for Knight-Ridder Information Services, where he helped deploy one of the first online relevance-ranking engines. Later, he moved to Apple, where he managed the eWorld Internet product line, and then became one of the founding members of the @Home product group, later becoming senior vice president of online products and services for Excite@Home.

Rosenberg graduated Phi Beta Kappa from CMC in 1983, obtaining a degree with honors in economics, before receiving his MBA from the University of Chicago. We are extremely pleased to welcome him back to Claremont for his discussion of technological innovation at Google's.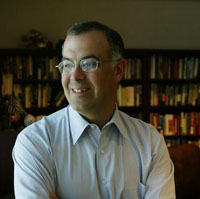 Politics, Culture, and the Way We Live Now
DAVID BROOKS
WEDNESDAY, FEBRUARY 27, 2008
Election years offer a convenient opportunity for collective soul-searching in American society. As we ask ourselves what we want in a candidate, we — consciously or not — prioritize our positions on a variety of moral, economic, and political issues. As we do this individually, it is also worthwhile to reflect on the evolution of the culture and society in which we live. In so doing, we stand to gain insight not only into politics, culture, and the interplay between the two, but also into the forces that shape the way that we think and act as individuals.David Brooks' visit to the Athenaeum is in the spirit of this inquiry.
Brooks is a prominent author, political commentator, and op-ed columnist for the New York Times whose articles have touched on a wide range of socioeconomic issues, pop culture, and political debates. Originally a self-described liberal who wrote a parody biopic on William F. Buckley, Brooks' thinking underwent a gradual transformation in the 1980's, due in part to his contact and debate with Milton Friedman in 1983. His more recent opinion pieces have run the gamut from the Iraq War, to gay marriage, to the culture wars in America between the Left and Right. His writings and commentary have established Brooks as a prominent, distinctive conservative voice on political and social issues.

Apart from his work for the Times op-ed page, which he joined in September 2003, Brooks has worked as a reporter and op-ed editor for The Wall Street Journal, a senior editor at The Weekly Standard, a contributing editor at Newsweek and The Atlantic Monthly, and a commentator on NPR and The News Hour with Jim Lehrer. A graduate of Chicago University with a degree in history, Brooks also recently taught as a visiting professor at Duke University's Terry Sanford Institute of Public Policy. His recent books, Bobos in Paradise: the New Upper Class and How They Got There (2000) and Paradise Drive: How We Live Now (and Always Have) in the Future Tense (2004), offer incisive social commentary on the peculiarities and patterns evident in modern American culture. The Athenaeum and the Salvatori Center are pleased to welcome David Brooks for an evening of similarly insightful commentary at a time of flux, uncertainty, and excitement in American political culture.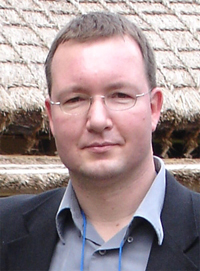 Changing North Korea: Beyond the Point of No Return?
RUDIGER FRANK
THURSDAY, FEBRUARY 28, 2008
North Korea has undergone substantial changes in the last decade, visible and invisible ones. However, we know little about the details of this development, its causes, and its direction. Is North Korea transforming, and if so, the European or the Chinese way? Is this process reversible? How does the nuclear issue fit into this picture? What can and should the international community do? These are some of the questions that will be discussed based on Rudiger Frank's theoretical analysis of Socialism's main features, personal experience of life under socialism in Europe and almost two decades of studying North Korea. The presentation is supported by photographs taken by the author during his visits to North Korea from 1991 to 2007.

Rudiger Frank is professor of East Asian Economy and Society at the University of Vienna and Director of the Vienna School of Governance. He is an adjunct professor at Korea University and the University of North Korean Studies in Seoul, and an affiliate researcher at the Modern East Asia Research Center in Leiden. He holds a master's degree in Korean Studies, Economics and International Relations and a Ph.D. in economics. He has spent one semester as a language student at Kim Il-sung University in Pyongyang in 1991/1992; his last visit to North Korea was in June 2007. His current research focus is the transformation of socialist systems in Europe and East Asia.

The Keck Center for International and Strategic Studies is pleased to host Dr. Frank's visit to CMC.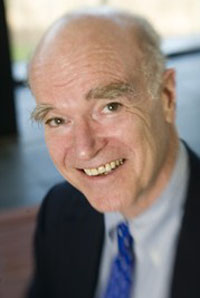 How Private Wealth is Changing the World
JOEL FLEISHMAN
MONDAY, MARCH 3, 2008
Joel L. Fleishman, Professor of Law and Public Policy at Duke University, was the founding director of Duke University's Terry Sanford Institute of Public Policy, is a founding member of the governing board of the Duke Center for Health Policy Research and Education, serves as the Director of the Samuel and Ronnie Heyman Center for Ethics, Public Policy and the Professions, and is the Director of the Duke University Philanthropic Research Program.

During his visit to the Athenaeum, Dr. Fleishman will discuss his recently published book, The Foundation: A Great American Secret; How Private Wealth is Changing the World (2007), in which he discusses the use of philanthropic capital. Fleishman has been active with foundations for decades, running foundations, sitting on boards, taking the role of the grant seeker as well as the grantor. He will discuss what foundations do and how they do it, addressing the issues of transparency and accountability. Over the coming years, the baby boom generation will supply a huge transfer of wealth to foundations. We can benefit by studying cases of both successful and unsuccessful foundation initiatives, and defining the leadership, focus, alignment, and measurement need to provide impact.

Mr. Fleishman received A.B., M.A. and J.D. degrees from the University of North Carolina at Chapel Hill, and an LL.M. degree from Yale University. His Athenaeum lecture is sponsored by the Kravis Leadership Institute as part of their series on Issues of Governance: the structure and accountability of 21st century organization.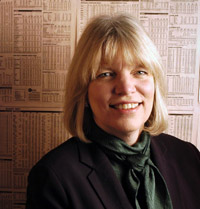 Corporate Governance and Social Responsibility: What Do Investors Care About?
LAURA STARKS
TUESDAY, MARCH 4, 2008
Laura Starks is the Charles E. and Sarah M. Seay Regents Chair of Finance and Director of the AIM Investment Center in the McCombs School of Business at the University of Texas at Austin. Her teaching interests include global financial strategies, investments, valuation theory, and financial management. In her Athenaeum presentation, Professor Starks will discuss several social responsibility issues that shareholder activists are raising with corporations. Professor Starks' research has focused on the evaluation, compensation and performance of portfolio managers and the role of institutional investors in markets and corporate governance. She is or has served as associate editor of the Journal of Finance, Review of Financial Studies, Journal of Financial Services Research, Journal of Financial Research, Financial Management, Contemporary Finance Digest and AB ANTE, Estudios en Direccion de Empresas.

She is currently serving on the Board of Directors of the American Finance Association and the Western Finance Association. She serves on the Board of Trustees and is Past President of the Financial Management Association. She is an independent director for USAA Mutual Funds and has served on the Investment Advisory Committee for the Employees Retirement System of the State of Texas since 1990, including two years as Chairman of the Committee. She has served as the Chairman of the Graduate Assembly for the University of Texas at Austin, the elected faculty council that governs the University's graduate programs and on the Executive Committee of the Faculty Council.

Professor Starks will present at the Marian Miner Cook Athenaeum at 6:45 p.m. on Tuesday, March 4, 2008 as part of the Financial Economics Institute Speaker Series.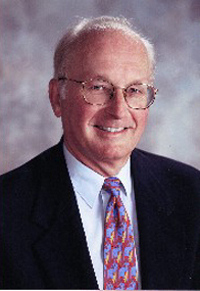 Arab-Israeli Peace Making: Is It Still Possible?
WILLIAM QUANDT
WEDNESDAY, MARCH 5, 2008
When President George W. Bush unveiled his "Roadmap for Peace in the Middle East" early in his presidency, he hailed it as a "vision of two states" that would be a "framework for progress towards lasting peace and security in the Middle East." As we approach the end of his second term, the shakeups and setbacks of the last years — the death of Yasser Arafat, the election and subsequent blockade of the Hamas government, the outbreak of fighting in the summer of 2006 — the situation seems as intractable as ever. Dr. William B. Quandt brings over three decades of thoughtful scholarship to this issue, and his visit to the Athenaeum promises to be an insightful one.

Dr. Quandt is the Edward Stettinius Professor of Politics and the University of Virginia, where he has taught since 1994. Before joining the faculty at Virginia, Dr. Quandt received a doctorate in Political Science from MIT and taught at the University of Pennsylvania and UCLA. His publications cover a range of Middle Eastern issues, from American foreign policy to Saudi Arabian oil and include Peace Process: American Democracy and the Arab-Israeli Conflict since 1967 (2001). Outside of academia, Dr. Quandt serves as a non-resident Senior Fellow of Foreign Policy Studies at the Brookings Institution and a member of the Council on Foreign Relations, and is a former President of the Middle East Studies Association. Dr. Quandt also served as a National Security Council staff member for the Middle East (1972-4, 1977-9), and was involved in the negotiations leading up to the Camp David Accords and the Egyptian-Israeli Peace Treaty.

It is a pleasure to have William Quandt take part in the 2007-2008 William F. Podlich Distinguished Visitors Program. This program was generously endowed by CMC alumnus and trustee William F. Podlich '66, whose aim is to enrich the college intellectually by bringing preeminent figures in scholarship, business, and public affairs to campus for extended visits.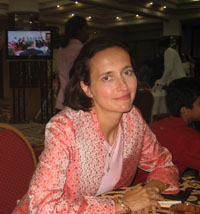 French Public Schools and the Ban on Head Scarves
GENEVIEVE RENAULT
THURSDAY, MARCH 6, 2008
LUNCH 11:30 a.m. LECUTRE 12:00 p.m.
Issues concerning the swelling immigrant population in France, composed primarily of North African Arabs known as maghrébins, played a prominent role in the recent French presidential elections, with the victor, Nicolas Sarkozy, promising a broad reform of immigration policy. Yet immigration policy alone does not address the barriers to assimilation that immigrants face in France. One of the most fevered disputes in French immigrant relations has been the controversy over 2004's "loi sur la laïcité" (Law on Secularism), which reiterated France's commitment to official secularism by, among other things, banning the wearing of large religious symbols in public schools. The ban applies to all religious items, including large crosses and Jewish yarmulkes, but most notably targets Muslim hijabs, or headscarves. Though a large majority of the French legislature, as well as the French population in general, supported the measure, it has since become a point of great contention among Muslim immigrants.

Geneviève Renault brings first-hand knowledge of the attempt to implement the ban on headscarves, and its effects on the French immigrant population. Born in Paris, never having seen the poor housing projects (known as HLM) in the immigrant banlieues (suburbs), Mme Renault joined the French public service as a teacher and was quickly assigned to teach French literature and English as a second language at the Lycée Adolphe Chérioux, a high school in Vitry-sur-Seine, a Parisian suburb. The high school is part of the Académie de Créteil, a massive, underfunded school district, comprised mostly of immigrants, that is regarded as a young teacher's worst nightmare. Her high school in particular lies in a zone sensible and a zone d'édcuation prioritaire, French euphemisms for particularly violent and poverty-stricken areas, where teachers receive a bonus to compensate for the increased risk and frustration. Mme Renault has a wealth of experience dealing with the French education system, and will speak about the challenges of teaching immigrants in such a low-income areas, as well as the cultural and political issues surrounding the controversial move to ban the hijab.

Genevieve Renault's visit to CMC has been arranged in collaboration with professor of government Hilary Appel.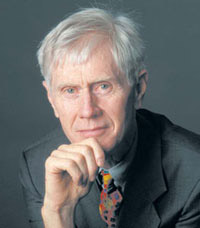 The Global Environmental Consequences of China's "Right" to Development
ORVILLE SCHELL
THURSDAY, MARCH 6, 2008
How does China stoke its extraordinarily high-revving industrial engine (which produces some ten- to eleven-percent annual economic growth)? "With coal," China expert Orville Schell reminds us: "soft, dirty, bituminous coal at that." With its proliferation of industries — especially such energy - intensive ones as aluminum, steel, electrical power, and cement — and its days of petroleum self-sufficiency ended at least a decade ago, China, to keep the home fires burning, must turn to a resource it still has in superabundance. "To feed all this development," Schell told the New York Times in December 2007, "China has recently been building in the neighborhood of one new conventional coal-fired power plant every week. … What is particularly depressing about this state of affairs is that each of these new 'conventional' coal fired power plants will be operating for another 30 to 40 years … So, we not only see China writing a scenario for its short-term environmental fate with these plants, but also for the globe's long-term fate." All this in a nation that is already, Schell contends, "approximately nine times less energy efficient than Japan and four to five times less efficient than the U.S." As one of the keynote speakers at Claremont McKenna College's March 2008 China and Human Rights Symposium, Schell will discuss how the disquieting dynamic between the world's two largest polluters — China and the U.S. — figures to play out in a global arena.

Orville Schell has devoted the better part of his professional life to reporting on China. Schell began preparing during his college days, majoring in Far Eastern History at Harvard College before earning his Masters in Chinese History at the University of California, Berkeley. Since then he has written nine books about China, including Watch Out for the Foreign Guests: China Encounters the West (Pantheon Books, New York, l980); To Get Rich Is Glorious: China in the l980's (Pantheon Books, New York, l984); and Mandate of Heaven: A New Generation of Entrepreneurs, Dissidents, Technocrats, and Bohemians Grasp for Power in China (Simon & Schuster, New York, l994). A frequent contributor to such publications as The Atlantic, Harper's, The New York Review of Books, The New Yorker, and The New York Times, Schell has also served as correspondent and consultant for several PBS documentaries and for an Emmy award-winning program on China that aired on CBS' "60 Minutes." With all that, Schell has somehow managed also to find the time to serve as Dean of the Graduate School of Journalism at U.C. Berkeley, as a member of the Social Science Research Council and Council on Foreign Relations, and on numerous professional boards and juries, including that of the Pulitzer Prize for International Reporting. Orville Schell's presentation is sponsored by the Gould Center for Humanistic Studies.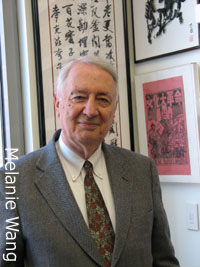 Political Reform: Past, Present-Future?
RODERICK MACFARQUHAR
FRIDAY, MARCH 7, 2008
Roderick MacFarquhar is the Leroy B. Williams professor of history and political science and director of the John King Fairbank Center for East Asian Research at Harvard University. He is co-author of Mao's Last Revolution (2006) and the editor of The Politics of China: The Eras of Mao and Deng (1997).

Roderick MacFarquhar's presentation at the Athenaeum is part of the China and Human Rights Symposium and is sponsored by the Gould Center for Humanistic Studies.
CHINA AND HUMAN RIGHTS: A SYMPOSIUM
Sponsored by the Gould Center for Humanistic Studies, the Center for the Study of the Holocaust, Genocide, and Human Rights, the Keck Center for International and Strategic Studies, the Berger Institute for Work, Family, and Children, and the Kravis Leadership Institute
To be held at the Marian Miner Cook Athenaeum, Claremont McKenna College
Thursday, March 6, 2008
3:00–4:45 pm: China, Economics, and Human Rights
Panel sponsored by the Center for the Study of the Holocaust, Genocide, and Human Rights
William Ascher
, Donald C. McKenna Professor of Government and Economics, Claremont McKenna College;
How So-Called "Economic Rights" Have Infringed upon Political and Human Rights
Richard Burdekin
, Jonathan B. Lovelace Professor of Economics, Claremont McKenna College;
Financial Market Fluctuations and Chinese Government Policy Shifts
Jerry Fowler
, Executive Director, Save Darfur Coalition;
China and Darfur
Jonathan Petropoulos
, John V. Croul Professor of European History and Director of the Center for the Study of the Holocaust, Genocide, and Human Rights, Claremont McKenna College;
ModeratorEvening keynote speaker at the Athenaeum, 6:00–8:00 pm:Orville Schell
, Arthur Ross Director, Center for U.S.-China Relations, Asia Society; former Dean (1996–2006), Graduate School of Journalism, U.C. Berkeley; author,
Virtual Tibet: Searching for Shangri-La from the Himalayas to Hollywood
(2000) and
Mandate of Heaven: A New Generation ofEntrepreneurs, Dissidents, Technocrats, and Bohemians Grasp for Power in China
(1995); "The Global Environmental Consequences of China's "Right" to Development."
Sponsored by the Gould Center for Humanistic Studies
Friday, March 7, 2008
9:00–10:30 am: China: State, Human Rights, and the Beijing Olympics
Panel sponsored by the Keck Center for International and Strategic Studies
Richard Baum
, Professor of Political Science, University of California, Los Angeles;
Human Rights and the Beijing Olympics
Stanley Rosen
, Professor of Political Science and Director of the East Asian Studies Center, University of Southern California;
Changing State-Society Relations and the Rights of Chinese Citizens
Chae-Jin Lee
, Bank of America Professor of Pacific Basin Studies and Director of the Keck Center for International and Strategic Studies, Claremont McKenna College;
Moderator10:30–10:45 am: Coffee break10:45 am–12:15 pm: Intellectual Life and Politics in Contemporary China
Panel sponsored by the Gould Center for Humanistic Studies
Er Tai Gao
, Writer/Painter/Art Critic;
The Artist in Chinese Society
Wang Chaohua
, Chinese Academy of Social Sciences;
Civil Rights and Human Rights: Before and After Tiananmen
Lindsay Waters
, Executive Director for Humanities, Harvard University Press;
Confucianism, Humanism, and Democracy
Gloria Davies
, Associate Professor, School of Languages, Cultures and Linguistics, Monash University;
Affirming the Human in Chinese Intellectual Discourse
Kang Zhengguo
, Senior lector, East Asian languages and literature, Yale University
Theodore Huters
, Professor of Asian Languages and Cultures, UCLA;
Co-moderatorRobert Faggen
, Barton Evans and H. Andrea Neves Professor of Literature and Director of the Gould Center for Humanistic Studies, Claremont McKenna College;
Co-moderator12:15–1:30 pm: Lunch1:30–3:00 pm: Society and Human Rights I
Panel sponsored by the Center for the Study of the Holocaust, Genocide, and Human Rights and the Berger Institute for Work, Family, and Children
Melinda Herrold-Menzies
, Assistant Professor of Environmental Studies, Pitzer College;
Human Rights and Nature Preserves in China
Theresa Harris
, Director, International Justice Project at the World Organization for Human Rights;
China and the Internet
Susan Greenhalgh
, Professor of Anthropology, University of California-Irvine;
China's "One Child" Policy
Sherylle Tan
, Associate Director of the Berger Institute for Work, Family and Children, Claremont McKenna College;
Moderator3:15–4:45 pm: Society and Human Rights II
Panel sponsored by the Gould Center for Humanistic Studies
Dai Qing
, Journalist/Activist;
The Three Gorges Dam and Human Survival
Han Dongfang
, Workers' Rights Activist;
Labor Movements in China
Dorothy Solinger
, Professor of Political Science, University of California, Irvine;
The Right to Livelihood: Is It Being Met?
Thomas Bernstein
, Professor of Political Science, Columbia University;
Peasants, Human Rights, and Abusive Officials
Arthur Rosenbaum
, Associate Professor of History, Claremont McKenna College;
ModeratorEvening keynote speaker at the Athenaeum, 6:00–8:00 pm:Roderick MacFarquhar
, Leroy B. Williams Professor of History and Political Science; director, John King Fairbank Center for East Asian Research, Harvard University; coauthor,
Mao's Last Revolution
(2006) and editor,
The Politics of China: The Eras of Mao and Deng
(1997); "Political Reform: Past, Present—Future?"
Sponsored by the Gould Center for Humanistic Studies