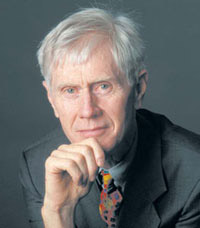 The Global Environmental Consequences of China's "Right" to Development
ORVILLE SCHELL
THURSDAY, MARCH 6, 2008
How does China stoke its extraordinarily high-revving industrial engine (which produces some ten- to eleven-percent annual economic growth)? "With coal," China expert Orville Schell reminds us: "soft, dirty, bituminous coal at that." With its proliferation of industries — especially such energy - intensive ones as aluminum, steel, electrical power, and cement — and its days of petroleum self-sufficiency ended at least a decade ago, China, to keep the home fires burning, must turn to a resource it still has in superabundance. "To feed all this development," Schell told the New York Times in December 2007, "China has recently been building in the neighborhood of one new conventional coal-fired power plant every week. … What is particularly depressing about this state of affairs is that each of these new 'conventional' coal fired power plants will be operating for another 30 to 40 years … So, we not only see China writing a scenario for its short-term environmental fate with these plants, but also for the globe's long-term fate." All this in a nation that is already, Schell contends, "approximately nine times less energy efficient than Japan and four to five times less efficient than the U.S." As one of the keynote speakers at Claremont McKenna College's March 2008 China and Human Rights Symposium, Schell will discuss how the disquieting dynamic between the world's two largest polluters — China and the U.S. — figures to play out in a global arena.

Orville Schell has devoted the better part of his professional life to reporting on China. Schell began preparing during his college days, majoring in Far Eastern History at Harvard College before earning his Masters in Chinese History at the University of California, Berkeley. Since then he has written nine books about China, including Watch Out for the Foreign Guests: China Encounters the West (Pantheon Books, New York, l980); To Get Rich Is Glorious: China in the l980's (Pantheon Books, New York, l984); and Mandate of Heaven: A New Generation of Entrepreneurs, Dissidents, Technocrats, and Bohemians Grasp for Power in China (Simon & Schuster, New York, l994). A frequent contributor to such publications as The Atlantic, Harper's, The New York Review of Books, The New Yorker, and The New York Times, Schell has also served as correspondent and consultant for several PBS documentaries and for an Emmy award-winning program on China that aired on CBS' "60 Minutes." With all that, Schell has somehow managed also to find the time to serve as Dean of the Graduate School of Journalism at U.C. Berkeley, as a member of the Social Science Research Council and Council on Foreign Relations, and on numerous professional boards and juries, including that of the Pulitzer Prize for International Reporting. Orville Schell's presentation is sponsored by the Gould Center for Humanistic Studies.