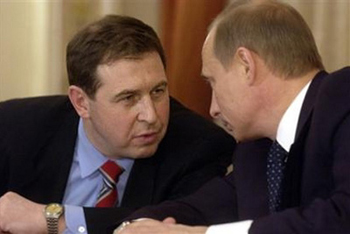 Political and Economic Reform under President Putin: An Insider's Perspective
ANDREI ILLARIONOV
WEDNESDAY, APRIL 2, 2008
LUNCH 11:30 a.m. LECTURE 12:00 p.m.
Andrei Illarionov is best known for his five years in Vladimir Putin's presidential administration as the chief economic advisor. However, in 2005 Illarionov resigned from his position declaring, "This year Russia has become a different country. It is no longer a democratic country. It is no longer a free country". He also claimed he had lost his ability to influence the direction of the government and that the Kremlin put limits on him expressing his point of view. Illarionov had been one of the lone voices high up in the Putin administration who overtly criticized the Yukos affair, the growing role of government officials on large companies such as Gazprom and Rosneft, and Russia's energy policy toward Ukraine. Most extraordinary, Illarionov had also been a proponent of the secession of Chechnya.
Illarionov received his Ph.D. from St. Petersburg University in 1987. During the Yeltsin administration, Illarionov served for one year as the senior economic adviser to Russian Prime Minister Viktor Chernomyrdin. In July 1994 Illarionov founded the Institute of Economic Analysis and became its director. On April 12, 2000, Illarionov assumed the position of Vladimir Putin's senior economic adviser within the Russian presidential administration, and in May 2000 he became the personal representative of the Russian president in the G8. He played a central role in Russian tax reform, in repaying the Russian foreign debt, in the creation of the Russian Stabilization Fund and in achieving Russia's full-fledged membership in the political G8.

Currently, Illarionov is a senior fellow at the Cato Institute's Center for Global Liberty and Prosperity in Washington. During his career, he has coauthored several economic programs for Russian governments and has written three books and more than 300 articles on Russian economic and social policies. Illarionov's visit is co-sponsored by the Marian Miner Cook Athenaeum and The Salvatori Center for the Study of Individual Freedom in the Modern World.