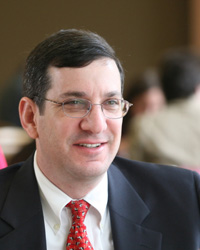 Our Most Valuable Asset
JOSHUA ROSETT
TUESDAY, MARCH 11, 2008
The Athenaeum is pleased to welcome one of our own, Joshua Rosett, the inaugural Curb Family Professor of Business and Law and a George R. Roberts fellow at Claremont McKenna College. Professor Rosett is a favorite of accounting and economics students, and is widely published on topics such as valuation, human capital, and corporate governance.

Music and film entrepreneurs Mike Curb and Carole Curb Nemoy P'07 — principals of The Curb Family Foundation — created this new faculty endowment in 2007 to provide CMC students with opportunities to understand common entrepreneurial challenges faced by individuals interested in forming a business and to play a significant role in the College's upcoming campaign.

Professor Rosett graduated Phi Beta Kappa with Honors in Economics from the University of Chicago in 1983. He earned his M.A. and Ph.D. in Economics from Princeton University. After his doctoral work, Professor Rosett was the recipient of post-doctoral fellowships at the National Bureau of Economic Research (1988-1990) and the Accounting Department at the University of Illinois, Champaign-Urbana (1991-1992). Before joining the faculty at CMC in fall 2003, Professor Rosett served on the faculties of Tulane University, Southern Methodist University, U.S. Business School in Prague, the University of Chicago, and the University of Illinois, Champaign Urbana.