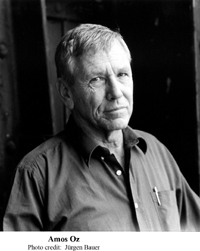 Israel and the Question of Global Anti-Semitism
AMOS OZ
THURSDAY, SEPTEMBER 18, 2008
Born in Jerusalem to east-European Zionist immigrants, Amos Oz, Israel's best-known novelist, spent more than thirty years living and working at the Hulda kibbutz in central Israel before moving to his present home in Arad, on the border of the Judean and Negev Deserts. Oz's service in the Israeli defense forces involved him in border skirmishes with Syria, assignment with a tank unit during the Six-Day War, and action in Golan Heights during the Yom Kippur War. In 1961, following studies in philosophy and literature at Hebrew University, he began writing ceaselessly, first contributing articles to the kibbutz newsletter and the newspaper Davar, and eventually publishing nearly a book per year, beginning with his first collection of stories Where the Jackals Howl (1965) and his first novel, Elsewhere, Perhaps (1966). Besides the 20 or so books he has written in Hebrew, Oz has published extensively in English, his fiction and non-fiction — predominantly on politics and literature — having appeared in New Yorker, the New York Review of Books, and numerous other publications.

Long identified for his advocacy of a two-state solution that would effect a secure division of Israel and Palestine, Oz has for more than 40 years — at least since the Six-Day War of 1967, when national exaltation over Israel's victory virtually quashed any discussion of compromise on the West Bank and Gaza — withstood attacks from the press, government, and professional peers. As David Remnick explained, "Oz is rebuked because he continues to criticize both the Israeli and the Palestinian leaderships rather than see the situation as a version of the French disaster in Algeria."

For his literary output, which, besides his novels, includes more than 450 articles and essays, Oz has received several of the world most prestigious awards and citations, including the Israel Prize for Literature in 1998 (the 50th anniversary of Israel's independence), the Goethe Prize in 2005, and the Heinrich Heine Prize in 2008. His works have been translated into more than 30 languages.

Amos Oz's presentation is sponsored by the Family of Benjamin Z. Gould Center for Humanistic Studies.