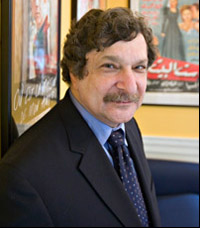 The Strange and Wonderful in Medieval Persian and Arabic Literature and Art
ROY MOTTAHEDEH
WEDNESDAY, OCTOBER 1, 2008
CANCELLED
Roy P. Mottahedeh is the Gurney Professor of History in the Faculty of Arts and Sciences, and director of the Prince Alwaleed Bin Talal Islamic Studies Program at Harvard University. A major Islamic social historian, Roy Mottahedeh focuses his scholarship on the premodern social and intellectual history of the Islamic Middle East.
Professor Mottahedeh's books include: Loyalty and Leadership in an Early Islamic Society (2001), The Mantle of the Prophet: Religion and Politics in Iran (1985), and Lessons in Islamic Jurisprudence (2003). He has also written numerous articles and serves as the faculty adviser for the Harvard Middle Eastern and Islamic Review and is currently working on a history of southern Iraq from the end of monarchy to the American-led invasion. In June 2006, the University of Lund in Sweden awarded him an honorary doctorate.
After completing his undergraduate studies in history at Harvard, Mottahedeh studied Persian and Arabic at Cambridge University in England. He continued his graduate studies at Harvard and was elected to the Harvard Society of Fellows, receiving his Ph.D. in 1970. Mottahedeh joined Harvard's History Department faculty as professor of Islamic history in 1986. From 1987 to 1990, he served as director of the Center for Middle Eastern Studies. Mottahedeh was among the first MacArthur Prize Fellows and has also received a Guggenheim Fellowship.