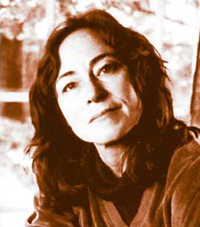 An Evening with Madame F
CLAUDIA STEVENS
WEDNESDAY, NOVEMBER 5, 2008
An Evening with Madame F (1990) is the internationally acclaimed musical drama created by Claudia Stevens for her performance as pianist, singer, and actor. Adopting the persona of an elderly concentration camp musician who had performed at Auschwitz, Stevens uses music actually played and sung by women inmates there. She draws on first-hand accounts to depict the struggle and moral dilemma of women who survived through performance. And, as a daughter of Holocaust survivors, she also meditates on the ethical problem of treating the Holocaust as the subject for artistic expression. One of the most honored Holocaust-related performances before the public, An Evening with Madame F was produced for television by PBS affiliate WCVE.

Claudia Stevens holds degrees in music from Vassar College, in musicology from the University of California at Berkeley, and the Doctor of Music in piano from Boston University. She has held academic and conducting positions at Williams College and the College of William and Mary, where she will return as Visiting Scholar in Music in 2008-9. As pianist and composer, she has been presented at Carnegie Recital Hall by the New York Composers' Forum and was the featured artist on several "Performance Today" on NPR broadcasts.

Claudia Stevens visit is jointly sponsored by the Center for Holocaust, Genocide and Human Rights and the Athenaeum.