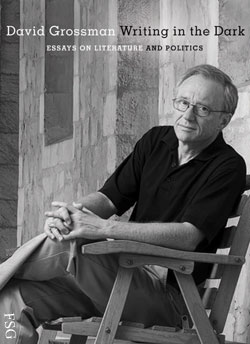 Israel at 60: Nation, Identity, and Literature
DAVID GROSSMAN
Thursday, November 6, 2008
"I am totally secular," remarked David Grossman, one of Israel's preeminent novelists, in a speech delivered at the Yitzhak Rabin memorial in 2006, "and yet in my eyes the establishment and the very existence of the State of Israel is a miracle of sorts … a political, national, human miracle." Grossman then gave over the balance of his discourse to addressing the complexity of his homeland's existential crises, and the hard choices Israel must make for its very survival. Voicing his personal grief, though without naming its cause — the death, a few months earlier, of his 20-year-old son Uri, who fell to a Hezbollah missile during a ground offensive in the village of Hirbat Kasif, Lebanon — Grossman continued: "The death of young people is a horrible, ghastly waste. But no less dreadful is the sense that for man years, the State of Israel has been squandering not only the lives of its sons, but also its miracle — that grand and rare opportunity that history bestowed upon it, the opportunity to establish here a state that is efficient, democratic, which abides by Jewish and universal values; a state that would be a national home and haven, but not only a haven, but a place that would offer a new meaning to Jewish existence; a state that holds as an integral and essential part of its Jewish ethos the observance of full equality and respect for its non-Jewish citizens."

The author of numerous novels, short stories, essays, plays, and non-fiction and children's books, David Grossman has, since the publication of his first story, Donkeys, in 1979, garnered many awards and honors for his masterfully wrought and singularly compelling prose. These include the Prime Minister's Prize for Creative Work (1984); the Chavalier de l'Ordre des Artes et des Lettres (France); the Valumbrosa Prize, Premio Mondelo, and Vittorio de Sica Prize (Italy); the Marsh Award for Children's Literature in Translation (United Kingdom), and the Har Zion Prize, Sapir Prize, and Emet Prize for Arts, Science and Culture (Israel; at the presentation of the latter in the Jerusalem Theatre in 2007, Grossman refused to shake hands with Prime Minister Ehud Olmert or Supreme Court President Dorit Beinisch).

From his early works, Grossman has acknowledged a love for Yiddish literature and the works of Franz Kafka and Heinrich Böll. His novels and non-fiction have dealt with all manner of themes: the Holocaust, Arab/Jewish relations, life on the West Bank (e.g., The Smile of the Lamb, 1983 — later made into a film directed by Shimon Dotan; and his non-fiction The Yellow Wind, 1987) — even, as in his 2000 novel, Someone to Run With, Jerusalem's vagrants, drug addicts, and runaways.

David Grossman's visit to Claremont McKenna College is sponsored by the Family of Benjamin Z. Gould Center for Humanistic Studies.