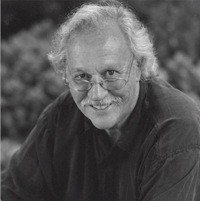 An Evening with the Author
ED MCCLANAHAN
THURSDAY, OCTOBER 23, 2008
Ed McClanahan describes his new book, O the Clear Moment (Counterpoint, 2008), as a collection of nine "marginally autobiographical" pieces that "incorporate a submerged or buried chronology, and add up to what I like to call an 'implied autobiography.'" If indeed they ever were "submerged or buried," the events, encounters, personages, and passions of McClanahan's life have undergone a most remarkable — and hilarious — disinterment and reanimation in O the Clear Moment. From high school high jinks and adolescent infatuations in small - town Kentucky, to Merry Pranksterdom in the California enclave that included, besides McClanahan's close friend Ken Kesey, counterculture icons Neal Cassady, Paul Krassner, and Sandy Lehman-Haupt, the peripatetic picaro crisscrosses the country in a medley of madcap peregrinations plotted only by what the author calls the "autobiographical imperative … asserting its self-important self." Along the way, he moves from "coming of age," to "coming of old age." As the author put it in the chorus of the song he likes to call his Greatest Hit ("All the Roads [A Kentucky Derby Lullaby]"; his other song would have to runner-up),

All the roads in the world lead to home, sweet home;
They all lead the other way, too.
Some have to go, and some have to stay;
And some are just passin' through.

Born in Brooksville, Kentucky and educated at Miami (Ohio) University and the University of Kentucky, Ed McClanahan has taught English and creative writing at Oregon State University, Stanford University, and the Universities of Kentucky and Northern Kentucky. His books include a novel, The Natural Man (1983); a memoir, Famous People I Have Known (1985); A Congress of Wonders (three novellas; 1996); and My Vita, If You Will (a miscellany of fiction, non-fiction, reviews, and commentary; 1996).

Ed McClanahan's visit to Claremont McKenna College is sponsored by the Family of Benjamin Z. Gould Center for Humanistic Studies and CMC's Department of Literature.