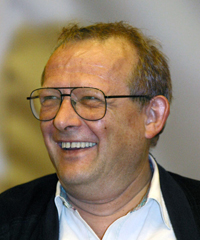 Global Anti-Semitism
ADAM MICHNIK
TUESDAY, MARCH 10, 2009
Adam Michnik is known as one of the leading dissidents in Communist-era Poland as well as the editor of one of Poland's largest and most influential newspapers, Gazeta Wyborcza.

Born in Warsaw in 1946, he was expelled in 1968 from Warsaw University for his role as a student activist. He became editor of two Warsaw underground journals, Krytyka and Zapis.

He became a leading adviser to the Solidarity movement and one of the most powerful voices for nonviolent resistance to communism in the 1980s. After martial law was declared in December 1981, Michnik was imprisoned by the communist government for three years but his Letters From Prison and Other Essays (1985) attest the persistence and power of his vision.

After the Roundtable agreements resulting in democratic elections in Poland, Mr. Michnik founded Gazeta Wyborcza ("Election Newspaper") which was the voice of the Solidarity movement until the 1989 elections. The paper continued as an independent daily after the elections.

Adam Michnik's visit to CMC is sponsored by the Gould Center for Humanistic Studies.