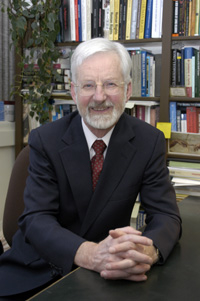 Human Rights and the Law: Should Leaders be Held Responsible for War Crimes?
PAUL LAUREN
WEDNESDAY, OCTOBER 7, 2009
Paul Lauren, an expert in the realms of modern European history, diplomacy and foreign relations, and history of human rights will bring his breadth of knowledge and experience to campus in a lecture sponsored by The Center for Human Rights Leadership at Claremont McKenna College. This internationally-recognized teacher and scholar, Senior Fulbright Scholar, a Senior Fulbright Specialist, a Woodrow Wilson Fellow, a Peace Fellow, a Rockefeller Foundation Humanities Fellow, and a Distinguished Lecturer for the U.S. Department of State will lecture about human rights and foreign diplomacy.
Mr. Lauren has delivered invited addresses before the Smithsonian Institution, the Nobel Peace Institute, and the United Nations. He served as the founding director of the Maureen and Mike Mansfield Center at the University of Montana, where he is the Mansfield Professor of Ethics and Public Affairs. Paul Lauren is first Regents Professor named by The University of Montana. He has published many articles, chapters, and eleven books, all or portions of which have been translated into seven different languages, including the widely-read Force and Statecraft (1983), the highly-acclaimed The Evolution of International Human Rights: Visions Seen (1998) nominated for a Pulitzer Prize, and the award-winning Power and Prejudice: The Politics and Diplomacy of Racial Discrimination (1996).

Professor Lauren's lecture is part of the Athenaeum series Human Rights and the Law.