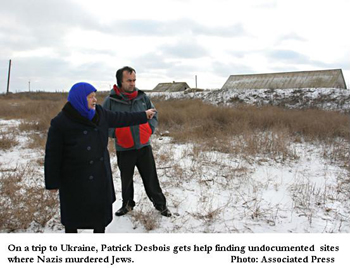 The Holocaust by Bullets
PATRICK DESBOIS
WEDNESDAY, OCTOBER 21, 2009
Ever since 2001, French Catholic priest Father Patrick Desbois has been
leading a team of experts
, crisscrossing the Ukrainian countryside in an effort to identify and document every mass grave and site at which Jews were killed during the Holocaust.
His interest in the Holocaust derived from his relentless curiosity with the experiences of his grandfather, a French soldier during World War II who was deported to a Nazi prison camp. After joining the priesthood and initially working in Israel with Gypsies, concentration camp victims, and other Jews, he eventually traveled to Ukraine to visit the camp where his grandfather was imprisoned. Shocked to hear that the mass graves in the area were never actually identified, Desbois founded Yahad-In Unum, an organization dedicated to promote Christian-Jewish understanding. As part of its mission, Yahad-In Unum collects information about the mass killing of Jews in Ukraine and Belarus by the Nazi mobile units known as Einsatzgruppen. To date, his team has have identified 800 of an estimated 2,000 such locations. They are also collecting artifacts and, most significantly, recording video testimonies from eyewitnesses — many of whom are speaking publicly for the first time. He works closely with staff at the
U.S. Holocaust Memorial Museum
to continue his work.
In December 2009, he will publish his memoir
The Holocaust by Bullets: A Priest's Journey to Uncover the Truth Behind the Murder of 1.5 Million Jews
, a reference to his estimated number of Jews killed by the Nazi army in Ukraine.
This presentation by Father Patrick Desbois is jointly sponsored by The Center for Human Rights Leadership at CMC, the Office