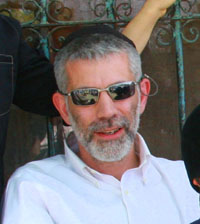 The Materialist Modern: Theology, Politics, and Community in Thomas Hobbes and John Milton
WILLIAM KOLBRENER
TUESDAY, FEBRUARY 9, 2010
Born and raised in Roslyn, New York, with a B.A. from Columbia College, an M.A. from Oxford University, and a Ph.D. from Columbia University, Kolbrener teaches in the English Department of Bar Ilan University in Israel. Kolbrener has written widely on the literature, politics, and philosophy of the Renaissance in England. His works include his Milton's Warring Angels published by Cambridge University Press in 1997 and a more recent collection on the eighteenth-century proto-feminist Mary Astell (Ashgate, 2007). Kolbrener has also written extensively on Jewish philosophy with several scholarly articles on the interpretive methodologies of the Talmud and the works of Rabbi Joseph Soloveitchik.

His book in progress, From Athens to Jerusalem, provides an account of a personal and unconventional synthesis of secular study and Jewish learning. From Athens to Jerusalem details a story which began in the halls of the Ivy League and Oxford University, and led eventually to houses of study in Jerusalem. More than an autobiographical account, Kolbrener's writings and lectures elaborate the relationship between Athens (Western philosophy and literature) and Torah. His current works in progress include a collection of essays, Contested Enlightenment: Gender, History and Authenticity, and a project on the intersection of theology and psychoanalysis, Open Minded Torah, to be published by Continuum in 2011.

A former Mellon Fellow of the Humanities, a Lady Davis Fellow at Hebrew University, and an Israel Science Foundation Fellow, Kolbrener lives in the Bayit Vegan neighborhood of Jerusalem with his wife and children.

Professor Kolbrener's visit to CMC is sponsored by the Gould Center for Humanistic Studies.