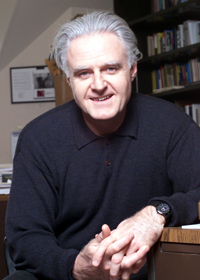 Love Songs of Serial Desire
ROBERT VON HALLBERG
TUESDAY, FEBRUARY 16, 2010
Robert von Hallberg is an expert on comparative poetry and poetics. As the Helen A. Regenstein Professor in English Language and Literature at the University of Chicago, he has written about avant-garde American poetry and American poetry since 1945. He is also especially interested in the culture of literary intellectuals, having authored Literary Intellectuals and the Dissolution of the State (1996), and The Sociology of Literature. In his academic research, he further evaluates about the relations between political history and literary culture, the topic of his book Poetics and Poetic Value (1987). Dr. von Hallberg is currently working on two books: one examines the African American poetry while the other is a short defense of lyric poetry. The genesis for the latter work comes from his growing interest in poetry and song. Dr. von Hallberg also teaches courses on German poetry and theories of poetic modernity at the University of Chicago.

Dr. von Hallberg received a doctorate in English and American Literature from Stanford University, and has since taught there and the University of Chicago, having also completed short professorships in Germany as well. He is a recipient of numerous research fellowship, including the Guggenheim, Alexander von Humbolt, and Fulbright awards.

In his address at the Athenaeum, he will consider "Love Songs of Serial Desire," based on his knowledge of the genre written in both English and German. As in the courses that he teaches, he explores the relationship between poetry and song and other general questions of poetics.

Professor von Hallberg's Athenaeum lecture is sponsored the Gould Center of Humanistic Studies at CMC.