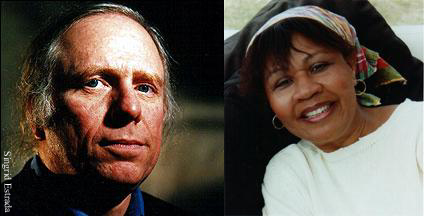 Ian Frazier and Jamaica Kincaid in Dialogue
IAN FRAZIER
JAMAICA KINCAID
MONDAY, MARCH 8, 2010
Clear and thoughtful - with a fillip of the outlandish, Ian Frazier's work is the stimulating, ardent writing that one always hopes for and rarely finds.
-The Houston Chronicle

Nonfiction writer and humorist Ian Frazier combines first-person narrative to capture contemporary life and travel narratives that explore American history and geography — especially the American West. As a staff writer for The New Yorker for twenty-one years, Frazier wrote feature articles, humorous sketches, and was a frequent contributor to the magazine's "Talk of the Town" section. In 1982, he left Manhattan for Montana, where he began the research for Great Plains (1989), a journey of more than 25,000 miles through the American West. Frazier returned to the West for On the Rez (2000), an account of the friendships Frazier made in his travels. Family (1994) is the story of Frazier's own lineage, as well as a chronicle of 19th- and 20th-century American history. Frazier's humor essays have been published in Dating Your Mom (1986) and Coyote v. Acme (1996). His most recent book, Gone to New York: Adventures in the City (2005) is a collection of essays about his relationship with the city itself.
While attending Harvard University he was on the staff of the Harvard Lampoon. He was later published in Harper's, The Atlantic Monthly, and other magazines. He has contributed essays for many books, translated a book, written on the crafts of travel writing and journalism, and served as editor for The Best American Essays (1997).

Jamaica Kincaid was born in 1949 as Elaine Potter Richardson on the island of Antigua. She lived with her stepfather, a carpenter, and her mother until 1965 when she was sent to Westchester, New York to work as an au pair. In Antigua, she completed her secondary education under the British system due to Antigua's status as a British colony until 1967. She went on to study photography at the New York School for Social Research after leaving the family for which she worked, and also attended Franconia College in New Hampshire for a year. Her first writing experience involved a series of articles for Ingénue magazine. In 1973, she changed her name to Jamaica Kincaid because her family disapproved of her writing. Through her writing, she befriended George W.S. Trow, a writer for The New Yorker, who began writing "Talk of the Town" pieces about her. As a result, Kincaid met the editor of the magazine, William Shawn, who, particularly taken by her work in The Village Voice and Ingenue magazines, offered her a job. Kincaid later married Shawn's son, Allen, a composer and Bennington College professor, and they have two children.

She became a staff writer for the magazine in 1976 and a featured columnist for the "Talk of the Town" section of the magazine for the next nine years. In 1978, Kincaid's first piece of fiction was published in The New Yorker, and it later became part of her first book, At the Bottom of the River (1983). It was nominated for the PEN/Faulkner. Two years later, in 1985, Kincaid published her first novel, Annie John.

In 2004, she was elected to the American Academy of Arts and Letters. Kincaid's writing is compelling because it captures complex emotions and exposes divisive issues in a deceptively simple style. Her other major works include Annie, Gwen, Lilly, Pam and Tulip (1986), A Small Place (1988), Autobiography of My Mother (1996), My Brother (1997), Talk Stories (2000), My Garden (Book) (2001) and Mr. Potter (2002). Her latest book is Among Flowers: A Walk in the Himalaya (2005).

Kincaid was a visiting professor at Harvard University, transferring to teach creative writing and autobiography at Claremont McKenna College in the fall of 2009.