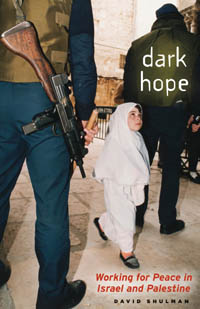 Dark Hope: Working for Peace in Israel and Palestine
DAVID SHULMAN
TUESDAY, APRIL 27, 2010
David Shulman is the Renée Lang Professor of Humanistic Studies in the Department of Comparative Religion at the Hebrew University of Jerusalem.

Professor Shulman was born in Iowa but moved to Israel in 1967 at age eighteen. Named a MacArthur Fellow in 1987, Shulman is the author or coauthor of nineteen books, including The Hungry God: Hindu Tales of Filicide and Devotion (1993), published by the University of Chicago Press.
Shulman's book, Dark Hope: Working for Peace in Israel and Palestine (2007), is a deeply moving story of human solidarity in the face of bitter and dangerous differences sown by ideology, religion and human weakness. He writes compellingly of days when Israelis and Palestinians together harvested wheat and olives in the West Bank, sought to save Palestinian land from condemnation by the Israeli authorities, and demonstrated against injustice.

In his words, he "did as many others [in Israel] did: I went to demonstrations, wrote letters to the minister of defense and the chief prosecutor of the army and the prime minister, went on convoys bringing food and medical supplies to Palestinian villages; [and] was beaten up by settlers, the usual protocol for those active in the Israeli peace camp. . ."

"Like the rest of us," he adds, "I was given a choice, or rather many recurring moments when choice was possible." As a member of Ta'ayush, or Arab Jewish Partnership, Shulman and his Palestinian and Israeli friends and allies, sought to foster hope and peace. But of course, Shulman and his fellow activists are not like "the rest of us" because they chose to protest injustice peacefully.

That story is what he wishes to share: to help us to understand what it is like to be part of the struggle, in his words, for "the pursuit of peace, ending the occupation, and . . . civic equality within Israel proper."

David Shulman's visit to the CMC campus is sponsored by The Center for Human Rights Leadership.